World news story
UK supports Japanese demining project in Angola
The UK government is supporting a Japanese demining project that will help more than 11,000 people at risk from landmines.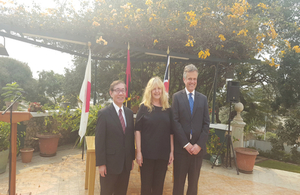 The UK government has announced new funding to support demining activities by the Japanese government implemented by the Norwegian People's Aid (NPA) in Malange Province, Angola. The new funding will purchase mission-critical protective footwear and enhanced communications equipment for NPA Mine-clearance teams.
This project will help to reduce the daily threat of fatality and injury in Angola. It will contribute to the release of land mainly for agricultural use and for the extension of residential areas and resettlement. The project will support the return of family farming practices and the self-sufficiency of the local population in Malange Province and thereby improve living conditions.
Angola has long been recognised as one of the most landmine contaminated countries in the world. Hundreds of thousands of Angolans still live in daily fear of mines and other explosive remnants of war, in the very soil on which they build their houses, walk to market and grow the family's food.
Ambassador John Dennis said:
We are privileged to be able to support the continuing and vital work of de-mining Angola. With our help and that of the Government of Japan, Norwegian People's Aid is making Malange a safer place for everyone who lives and travels there.
This funding will contribute to the cancellation and release of nearly 1.2 million m² of land in 9 municipalities of Cahombo, Marimba, Massango and Malanje, as well as facilitate vital Mine Risk Education programmes to teach rural communities to identify and report mines to local authorities. It will benefit over 11,000 men, women and children.
As well as saving lives and reducing casualties, the funding will clear land to enable grazing and agriculture, expansion of residential areas, the construction of schools, like in the village of Mangando, Marimba commune, where local administration plans to build a school on the demined land in a village of 832 inhabitants of whom 307 are children. Since 1995 NPA has removed and destroyed 13,847 and more than 293,400 unexploded ordnances in Angola. For further information on their work please visit their website.
Notes for Editors
Angola's civil war ended in 2002, but 35% of its landmass is still contaminated by landmines. This has been hindering its economic and social development.
This collaboration is part of wider UK-Japan joint co-operation projects in Africa, including peacekeeping and peacebuilding, as agreed at the Second Japan-UK Foreign and Defence Ministers' Meeting ("2+2") in January 2016.
In this project, Japan and the UK will fund a landmine clearance project in Malanje Province in Angola. It will be implemented by an NGO called Norwegian People's Aid (NPA). Japan has offered assistance of USD 203,384 through its Grant Assistance for Grassroots Human Security Projects for expenses for personnel, equipment, etc. The UK will provide assistance of USD 20,988 through the FCO's Asia Bilateral Programme Fund to purchase communication equipment and safety boots for the project.
Published 12 August 2016