World news story
New UK-China research collaboration to combat natural hazards
This was published under the 2010 to 2015 Conservative and Liberal Democrat coalition government
A 3-day scoping workshop between UK and China was held in Chengdu from 18-21 November 2014.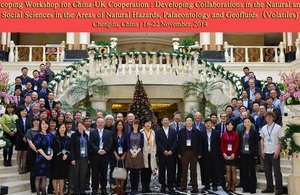 The workshop is under the Increasing Resilience to Natural Hazards joint programme funded by the UK's Natural Environment Research Council (NERC), Economic and Social Research Council (ESRC) and the National Natural Science Foundation of China (NSFC) with support and facilitation from Research Councils UK (RCUK) China office. This programme is implemented under the UK-China Research and Innovation Partnership Fund (Newton Fund).
Over 70 participants attended the workshop, including 25 leading academics from the UK, the largest delegation to attend a Research Council UK workshop in China. Participants shared knowledge on priority areas under this programme, which aims to increase social and economic resilience in earthquake-prone and volcanic regions by reducing risks from multiple natural hazards.
A total of £3 million pounds will be provided by NERC and ESRC to UK scientists, with NSFC providing matched funding to Chinese researchers. This is the first time NERC and ESRC have jointly partnered with NSFC.One of the programme's principal goals is to integrate natural and social science research to ensure that new knowledge is used to effectively tackle resilience by benefitting those most vulnerable to natural hazards.
The 2008 Sichuan earthquake was one of the largest earthquakes in human history in terms of socio-economic losses. The epicentre was in Wenchuan county approximately 80 km from Chengdu, in Sichuan Province. The earth quake registered at 8.0 on the Richter scale, and resulted in the deaths of 87,150 people with 4,800,000 made homeless.
Only one day after the workshop, a 5.9 magnitude earthquake hit Kangding county in Sichuan, just 300 km from Chengdu, which resulted in five deaths and injured over 50 people. In light of these tragic events, it is clear that this new joint programme is of great importance.
Dr. Chris Franklin, Head of the Earth Sciences at NERC said:
This partnership between NSFC, ESRC and NERC has the potential to break new ground in collaboration to improve resilience to the consequences of cascades of natural hazards, the newly termed Dominology of Hazards. This is when a hazard such as an earthquake leads to a secondary hazard such as a landslide, the latter in China often being the cause of many fatalities. I hope our joint funding of a call with NSFC for research will ultimately improve people's lives and also produce world leading science that can be published in journals such as Nature.
Eloise Meller, Deputy Head of Economic Performance and Environment, ESRC stated:
Geohazards such as earthquakes cause enormous human suffering and economic damage, accounting for the loss of millions of lives, and at a cost of billions of dollars. Further research effort is needed to enhance the understanding of the physical processes behind such natural hazards, but also the impact they have on individuals and communities, and how we assess these vulnerabilities. Bringing together the insights of social scientists and physical scientists will provide us with the economic, environmental and social perspectives on this critical issue. We hope that the partnership between ESRC, NERC and NSFC and the relationships established over the three days will lead to strong UK-China transdisciplinary partnerships.
Dr. Yao Yupeng, Deputy Director Division of Geoscience, Dept. of Earth Sciences, NSFC commented:
China is frequently struck by geohazards induced by the geological setting of the continent as well as society's rapid economic development. The vulnerability of society to geohazards is increasingly serious and is a huge challenge that geoscientists in China face. I hope that through this China-UK collaboration scientists can contribute to building resilience to natural hazards. This is the 1st step in China-UK geoscience cooperation. I hope that other areas will follow our lead.
The knowledge and experiences shared through this workshop will be documented, and a call for proposals will be launched in early 2015.
If you have any inquiries about this programme please contact Cerian.Foulkes@rcuk.cn
Document information
Published: 5 December 2014