New tool improving MOD weather resistance
The MOD is developing plans to defend its establishments from an increasing threat – the changing environment around us.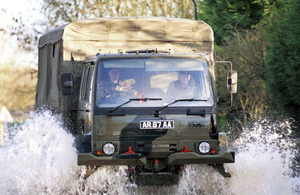 Defence Estates (DE) is leading the early reconnaissance efforts in the battle to improve business resilience against current and future disruptive weather related events.
Under the UK Climate Change Act (2008) and the Sustainable Development in Government (SDiG) targets, the MOD is required to carry out an assessment of the risks from the impacts of climate change on the management and operational capability of its most critical sites by 2013. The Department is also required to report on how it is progressing on adapting its sites in response to any challenges that emerge.
David Murphy, who leads the Cabinet Office work on resilience of critical infrastructure, explains:
The 2007 floods highlighted the vulnerability of our national infrastructure to disruption from natural hazards. Many people were affected when essential services were disrupted, including the supply of water for 350,000 people for up to 17 days.
Owners of critical infrastructure should understand the potential for disruption from weather related events under our existing and future climates, and take action to ensure essential services are resilient.
In response to this requirement, DE has recently completed the development of its "Climate Impact Risk Assessment Method" (CIRAM) tool. CIRAM can be applied by the Armed Forces and other MOD organisations at their establishments to identify climate related risks and determine actions to increase or maintain resilience to these climatic pressures
Brigadier Jim Bowden, DE's Head of Estate Development and Property, adds:
Turning a blind eye to our resilience is not an option if we are to deliver operational capability and provide a safe place to live, work and train and CIRAM is a vital tool in this respect.
Five sites across the MOD estate were identified to test the development of CIRAM - Abbey Wood, Bristol; Royal Marines Barracks, Chivenor, North Devon; RAF Kinloss, Scotland; Royal School of Military Engineering Minley, Hampshire and finally Thorney Island in West Sussex.
The pilot studies were selected to test not only different geographical locations but also because they reflect a range of operational outputs from offices to airfields.
DE's approach is certainly meeting with Cabinet Office approval, as David Murphy says:
The implementation of CIRAM for the MOD estate is an important contribution to the Government's programme to assess climate risks and improve the resilience of the UK's critical infrastructure to natural hazards.
This an edited version of an article by Henry Wilson, first published in the Spring edition of Estatement magazine. You can read the full article by following the 'Related Link' to Estatement.
Published 20 August 2010