News story
New address and telephone numbers for the DBS
Make a note of our new address and telephone numbers for DBS customer services.
This news article was withdrawn on
News is no longer current government activity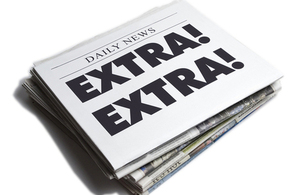 From Monday 9 March you can get in touch with us on our new numbers.
DBS helpline: 03000 200 190
Welsh language line: 03000 200 191
Minicom: 03000 200 192
International: +44151 676 9390
The current 0870 numbers we use cost between 2p-10p from a landline and 21p-41p from a mobile. Our new 0300 numbers cost the same to call as 01 or 02 landline numbers.
By law, 0300 numbers must be included in tariff bundles including free minutes for mobile and landline packages.
The old 0870 telephone numbers will not be switched off for at least six months to allow you time to adjust, but please start using any of the DBS 0300 numbers from today.
If you are an employer and have any correspondence displaying the DBS customer service numbers, please make sure you update it to show the new 0300 numbers.
We have also updated our PO Box address for customer services. You can start sending completed DBS application forms to:
DBS applications
PO Box 3961
Wootton Bassett
SN4 4HF

We will continue to look for ways to improve your experience, and will listen to your feedback as part of our commitment to delivering excellent customer service.
Published 9 March 2015
Last updated 9 April 2015
+ show all updates
Added a new postal address for DBS customer services.
Added a new international telephone number which customers residing abroad can use to contact us.
First published.