Press release
New technology to protect homes from flooding
A flood brick that could replace sandbags to defend homes and infrastructure from flooding is one of three winners sharing £200,000 Defra funding…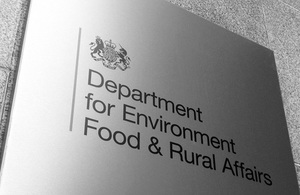 A flood brick that could replace sandbags to defend homes and infrastructure from flooding is one of three winners sharing £200,000 Defra funding to develop technology to tackle climate change and flooding, Environment Minister Lord de Mauley today announced.
The successful businesses beat hopefuls looking to address flooding and the effects of climate change in local communities through developing innovative technology.
Congratulating the winners, Environment Minister Lord de Mauley said:
"This year we saw weeks of heavy rain and flooding across the country and we witnessed the devastation extreme weather can cause, especially to the rural economy. The effects of climate change and flooding is only likely to increase.
"These businesses have created exciting ways to combat climate change and the effects of flooding in our communities. The competition has encouraged people to think about tackling the problems the environment throws at us, and I hope these make it into production along with many of the other ideas we have seen."
The entrepreneurs competed in a 'Dragons Den' style competition. The funding will help bring two products and a concept into production but it has also encouraged people to think about tackling climate change and flooding and brought the ideas to the attention of the private sector who will hopefully develop other ideas further.
FloodBrick a stackable flood barrier was one successful bid who will see their pitch become a reality. The competition winners were:
Flood Brick from Fluvial Innovations - Awarded £44,280 plus the cost of kitemarking the product - The project creates a low cost, stackable flood barrier intended to replace the use of sandbags. The Flood Brick can be easily stored, deployed by one person and is re-usable. Units can be self-filling, using the weight of rising floodwater to hold back flood flow.
Papa Rainwater Harvesting System from Papa Ltd - Awarded £88,000 - A zero energy rainwater harvester uses flowing water from roofs to activate a patented valve to pump rainwater into storage for re-use in local domestic and industrial buildings. It plans to make rain-water harvesting cost-effective on a wider scale which will contribute to reducing water usage and flood risk.
Catchment Scale approach from AECOM - Awarded £54,630 - AECOM will work with Severn Trent Water to look at the challenges of drainage during heavy rainfall in urban parts of the West Midlands.  It will develop a model that can be used by water companies across the UK.
The prize fund forms part of Defra's work to protect peoples home from flooding and adapt to climate change.
Simon Phelps, Managing Director, Fluvial Innovations Ltd said:
"It is absolutely fantastic news that Fluvial I_nnovations, FloodBrick_ has been selected to win the Climate Change award.
"The money will make a big difference to Fluvial Innovations, we are now able to develop the FloodBrick, a range of temporary flood prevention barriers that are not only extremely cost-effective but functional.  We plan to manufacture a prototype, then test and commercialise it.
"Having developed and supplied our existing flood barrier range (Floodstop) over the past 7-years; we have gained an acute awareness of what the market demands in the future - namely simplicity and low cost.
"It's great funding like this is available to help UK businesses like us, drive innovations forward."
The projects that won the funding will aim to showcase their products in June 2013.
Notes
The Government are investing £2.17billion on flood prevention through to 2015 and also recently announced an additional £120million to speed up the delivery of 50 schemes that will protect up to 60,000 homes from flooding and coastal erosion and unlock development and benefit the economy. The Government is already on course to deliver better protection to 145,000 homes by 2015.
The Defra funded - Technology Standard Board competition is the first of two rounds, with an additional £200,000 funding available for round two. The second round of the competition will be launched in summer 2013. The Government does not endorse the use of specific products.
Further details on the winners and pictures of the projects are available through the Defra Press Office.
The BSI Kitemark scheme for flood protection products embraces a wide range of solutions for property-level and temporary flood protection. For more information on the scheme, see http://www.bsi-global.com/en/ProductServices/About-Kitemark/.
A full range of products are listed on the National Flood Forum's 'Blue Pages' (a directory of products and services for property-level flood risk mitigation). The directory can be accessed via their website http://www.floodforum.org.uk/.
The Flood Protection Association is a trade association for companies who develop innovative solutions to flood alleviation where traditional defences are not feasible. Their website http://www.floodprotectionassociation.org/ provides further details.
Published 28 December 2012