World news story
New Tax Agreement Between United Kingdom and Uruguay
The United Kingdom and Uruguay signed a convention to avoid double taxation and prevent fiscal evasion related to taxes on income and on capital.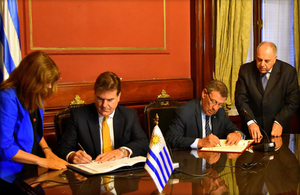 British Ambassador Ben Lyster-Binns and the Uruguayan Foreign Minister Rodolfo Nin Novoa signed the agreement in a ceremony at the Palacio Santos.
"It is a good deal for British and Uruguayan companies and individuals with interests in both countries. It will contribute to protecting and promoting investments", said Ambassador Lyster-Binns. "I expect this to encourage more British investments in Uruguay."
Marcelo Mercant, President of the Uruguayan-British Chamber of Commerce, said that this convention provides security to investors of the two countries even through changes in domestic tax law.
"The agreement is an excellent tool to further promote trade and investment between the two countries in addition to the many benefits it brings to those with existing operations in both countries", he added.
Ambassador Lyster-Binns said that "this is an important agreement for the United Kingdom because Latin America is a region in which we haven't had as many agreements as we would like. I hope this sets a precedent for future negotiations with other countries."
In 2013 the United Kingdom and Uruguay signed an agreement to exchange tax information.
Published 4 March 2016