New support to help 'Town Team Partners' transform their high streets
Hundreds of towns across the country are being offered support that will help them revitalise their high streets.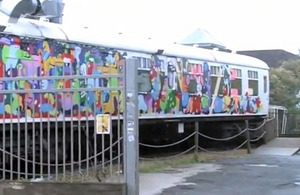 Following applications by local MPs, over 300 Town Teams have signed up to become Town Team Partners, and will benefit from a package of support, which includes help from the government as well as advice and support from leading retail experts.
The Town Teams Partners will receive an immediate boost, with national event to be held in Birmingham tomorrow by the Association of Town Centre Managers.
Local Growth Minister Mark Prisk said the extra support would help the teams to strengthen their leadership on the ground, and enable them to try new ideas on their high streets to make them more attractive and competitive.
Designs for Deptford
To mark the announcement the minister visited Deptford, a successful applicant to become a Town Team Partner. The team have plans to use the creative buzz generated by local artists by installing their art works in the high street and in local shops - from boutiques to the local fishmongers - all under the 'Made in Deptford' banner.
Mr Prisk also saw the Deptford Project, a railway carriage that has been transformed into a cafe - a great example of how the Town Team Partner plans to transform the look of the high street and showcase local talent.
Mark Prisk said:
"There's a real hunger in town centres across the country for them to be revitalised and remain attractive places to visit. So I'm delighted that from today over 300 Town Team Partners will begin to receive a package of support that helps them breathe new life into their high streets.
"No one's pretending that there's a silver bullet for improving the performance of our town centres. Yet as I saw in Deptford: with this new support, and the opportunity to learn from each other, Town Teams can channel their energy and enthusiasm into promoting a more exciting and competitive offer on our high-streets, and help them thrive for years to come."
Package of support
The opportunity to become a Town Team Partner received an overwhelming response from towns across the country, with hundreds of MPs submitting applications.
Each Town Team Partner will have access to:
help to get started and become established in their town
an advice line and a network of advisers managed by the Association of Town Centre Management
special national events to learn from other Town Teams, and secure support from industry experts and trade bodies
an online 'Knowledge Bank' with expert advice and support
regular meetings with other Town Teams to share tips and ideas
'Crowdfunding' - a potential way to attract local investors and raise small amounts of finance to support their work
All Town Team Partners will also benefit from a government-sponsored fund designed to help towards getting their plans off the ground.
High Street x-factor
Town centres also have the opportunity to win the £1million Future High Street X-Fund.
The prize will be shared among the high streets that show the greatest improvements. Towns will be judged by an independent expert panel, for the inventiveness of their schemes and evidence of their impact, such as increased footfall or turnover, or improved skills and employment levels.
Towns will also need to explain how they plan to use their prize money to further support their high streets.
Published 23 October 2012