News story
New support for exporters
The Government believes rising exports will be crucial to securing economic growth and is taking steps to help UK firms compete internationally…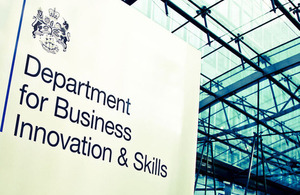 The Government believes rising exports will be crucial to securing economic growth and is taking steps to help UK firms compete internationally.
The new schemes will be:
Export Enterprise Finance Guarantee Scheme established by the Department for Business, Innovation & Skills, offering export finance valued up to £1m to SMEs.
ECGD will launch the Export Working Capital Scheme for those not eligible for the Export EFG, offering export finance worth over £1m.
Bond Support Scheme offered by Export Credits Guarantee Department (ECGD), under which the Government will share risk with lending banks on the issue of contract bonds.
ECGD will support banks offering foreign exchange hedging contracts to small and medium enterprises (SMEs) by sharing credit risk.
In addition, ECGD will extend its existing short term export insurance** **to cover a broader range of exporters, including SMEs.
Trade and Investment Minister Lord Green said:
"The Government will offer an expanded, better coordinated range of products to large and small businesses alike, working closely with the banks to widen access to the capital and credit insurance exporters need to make the most of their opportunities.
"Our exporters are crucial to securing the recovery and we want to do everything we can to help them grow. This new support will help British exporters compete and win business overseas."
Trade Policy Minister Edward Davey said:
"Businesses have told us they want more help to access the vital credit they need to meet rising orders for exports, and to protect them from some of the uncertainties of international trade.
"Today we are taking strong action to expand the range of support the Government offers businesses, particularly small firms. With these measures in place, entrepreneurs will have the Government right behind them as they take the best that Britain has to offer to markets around the world."
In March the Bond Support Scheme will be available from banks and the extended Export Insurance Policy direct from ECGD. The other three measures are each expected to launch in April.
Notes to editors:
The Export Enterprise Finance Guarantee Scheme will be based on the successful Enterprise Finance Guarantee Scheme (EFG). It is aimed at SME exporters with annual turnover up to £25m, who will access the scheme through a range of commercial providers, many of whom already participate in the EFG.

Extension of ECGD's insurance policy means it will no longer only be available to exporters of capital goods.

BIS' online newsroom contains the latest press notices, speeches, as well as video and images for download. It also features an up to date list of BIS press office contacts. See http://www.bis.gov.uk/newsroom for more information.
Notes to Editors
Contact Information
Name BIS Press Office Job Title
Division COI Phone
Fax
Mobile
Email NDS.BIS@coi.gsi.gov.uk
Name Lucy-Michael Sutton Job Title
Division Department for Business, Innovation and Skills Phone 020 7215 5977 Fax
Mobile
Published 9 February 2011