New strategy to help build stability overseas
A new strategy published today outlines how the UK will help to stop serious conflict taking hold in unstable countries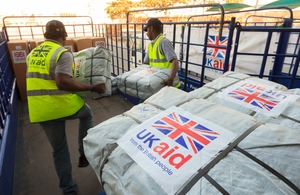 The Government has today published a new strategy outlining how the UK will help to stop serious conflict from taking hold in unstable countries.
When violent conflict breaks out, the costs to the country and the international community are enormous. Lives are lost, people are displaced and trade links are cut. Schools shut down, hospitals are destroyed and businesses cannot operate. For these reasons, war is often termed 'development in reverse'.
The new paper - known as the Building Stability Overseas Strategy - details how Britain aims to tackle these problems by promoting democracy, security and prosperity in countries and regions where its interests are at stake.
The strategy has been developed jointly by the Foreign and Commonwealth Office, Department for International Development and Ministry of Defence. 
The strategy is based on three strands:
Early warning: improving our ability to anticipate instability and potential triggers for conflict
Rapid crisis prevention and response: improving our ability to take fast, appropriate and effective action to prevent a crisis or stop it spreading or escalating
Investing in upstream prevention: helping to build strong, legitimate institutions and robust societies in fragile countries that are capable of managing tensions and shocks so there is a lower likelihood of instability and conflict
Secretary of State for International Development, Andrew Mitchell, said:
The Building Stability Overseas Strategy will help the UK to work more effectively to tackle instability upstream, helping to prevent conflict and the suffering it causes. This goes to the heart of the drive to achieve better targeted, more effective aid.

Not only is this cost-effective and beneficial for the security of the UK, it will also help to improve the lives of some of the poorest and most vulnerable people on the planet.
The strategy is clear that investments must deliver results whilst providing value for the UK taxpayer. To ensure this, a new transparent, cross-Government reporting framework is being set up to measure the UK's impact.
Published 19 July 2011