Press release
New stations fund proves popular
14 new station fund bids expected later this month.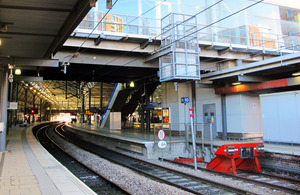 Transport Secretary Patrick McLoughlin has welcomed the interest shown in the government's new stations fund following the launch of the £20 million scheme.
The Department for Transport and industry representatives are currently working hard to assess 14 bids with an announcement expected to be made later this month.
The fund, which was launched in January, is targeted at 'shovel ready' projects which can be delivered quickly to provide long-term benefits to passengers and the economy.
Bids include a parkway station near Worcester, a station at Kenilworth in Warwickshire and a scheme in Ilkeston, Derbyshire. Bids have also been received for stations in Low Moor, Bradford, the village of Haxby, near York, and Warrington West.
Transport Secretary Patrick McLoughlin said:
I welcome the interest we have seen in the stations fund, this shows the government was right to introduce this brand new scheme. There have already been calls for the scheme to go further and we will certainly be looking at how we can develop it in the future. This represents just a small part of the multi-billion pound package of improvements for our railways, providing real benefits for passengers and industry.
Local authorities, train operating companies and developers have been encouraged to apply for the scheme, with successful applicants also required to provide a percentage of funding.
Applications are currently being assessed by a cross-industry panel, including representatives from Network Rail and the Department for Transport.
Notes to editors
The Transport Secretary's written statement to the House of Commons is available on the GOV.UK website.
The creation of a fund for brand new stations was announced in July last year as part of the statement accompanying the 2012 High Level Output Statement (HLOS).
The scheme is designed to deliver new stations which are sustainable in the long term so bidders must set out how the station will be operated, including staffing and maintenance implications.
This funding will be allocated through an open competition to ensure that all promoters of stations have an equal opportunity of securing a funding contribution.
The fund will typically contribute up to 75% of the capital cost of a new station.
An awards panel, including Department for Transport and Network Rail (as deciding members) and ATOC and the Campaign for Better transport (as advisory members) are currently assessing the bids. In addition, a representative from the Welsh government has been invited for any Wales bids.
Published 11 March 2013