News story
New socio economic annual report published
The contract to decommission the Dounreay site places socio economic commitments on both the site licence company (Dounreay Site Restoration Ltd) and the Parent Body Organisation (Cavendish Dounreay Partnership).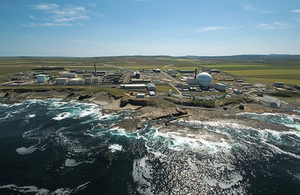 Each year, working in partnership with the NDA, a new socio economic plan covering a three year period is revised and updated.
This report provides details on the progress made during financial year 2013-2014 and should be read in conjunction with the Dounreay Socio Economic Plan 2013-2016.
Socio Economic Annual Report 2013-14
Published 23 April 2014