News story
New small claims track for businesses with IP disputes
The small claims track will provide copyright, trade mark and unregistered design holders the option of pursuing basic IP disputes through an…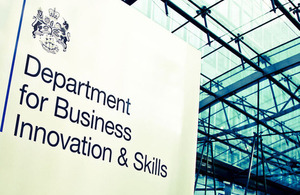 The small claims track will provide copyright, trade mark and unregistered design holders the option of pursuing basic IP disputes through an informal hearing, without legal representation. This is expected to reduce significantly the cost of pursuing IP infringement cases. Claims allocated to the small claims track will be subject to damages restrictions of £5,000 or less to ensure they are proportionate to what is at stake.
Welcoming the announcement, Business Minister Michael Fallon said:
"Small firms, whose intellectual property has been infringed, will have today a simpler and easier way to take their cases forward, by writing direct to the judge and setting out the issues.
"Lower legal costs will make it easier for entrepreneurs to protect their creative ideas where they had previously struggled to access justice in what could often be an expensive progress. A smarter and cheaper process is good for business and helping businesses make the most of their intellectual property is good for the economy."
The introduction of the PCC small claims track is the latest addition to a catalogue of important reforms that the Government has driven through to simplify and streamline court procedures. Changes already introduced include a cap on damages and a limit on legal costs. Both measures have reduced the cost and complexity of legal action for businesses.
In addition to today's changes, the Intellectual Property Office (IPO) provides numerous alternatives to court action for resolving IP disputes, including hearings before an IPO tribunal, or using the IPO's mediation services. It recommends that legal action is only taken as a last resort.
**Notes to editors
**1. In January 2010, Lord Justice Jackson conducted a review on the cost of civil litigation which identified that the high cost of IP litigation was often unaffordable for many rights holders and disproportionate to what was at stake.
The report recommended a greater separation of the County Court and High Court responsible for IP, in line with other court systems. This would maintain the High Court for complex and expensive cases, with potentially unlimited damage and cost awards. The county court would have shorter processing times for simpler cases, with a limit on costs and damages awarded.

A second review, produced by Professor Ian Hargreaves specifically suggested the introduction of a small claims track for the PCC.

The two reports led to reform of the Patents County Court in three stages:
(i) The introduction of the cost/damages cap (October 2010)
(ii) The announcement today of the introduction of the small claims track, to deal with lower value IP disputes and
(iii) Renaming the court to better reflect the remit of the Court - expected in 2013/2014.
The Patents County Court resolves cases for England and Wales; Scotland and Northern Ireland's judiciary is devolved and have separate systems for resolving IP disputes.

For media queries, please contact Veena Mapara on 0207 215 5614.

For emergency media calls out-of-hours please contact the duty press officer at the Department for Business, Innovation and Skills on +44 (0) 207 215 3505.

The Intellectual Property Office (IPO) is within the Department for Business, Innovation and Skills (BIS) and is responsible for the national framework of Intellectual Property rights, comprising patents, designs, trade marks and copyright.

The IPO's role is to help manage an IP system that encourages innovation and creativity, balances the needs of consumers and users, promotes strong and competitive markets and is the foundation of the knowledge-based economy.

The IPO operates in a national and an international environment and its work is governed by national and international law, including various international treaties relating to Intellectual Property (IP) to which the United Kingdom is a party.

The Government's economic policy objective is to achieve 'strong, sustainable and balanced growth that is more evenly shared across the country and between industries.' It set four ambitions in the 'Plan for Growth' (PDF 1.7MB), published at Budget 2011:
To create the most competitive tax system in the G20

To make the UK the best place in Europe to start, finance and grow a business

To encourage investment and exports as a route to a more balanced economy

To create a more educated workforce that is the most flexible in Europe.
Work is underway across Government to achieve these ambitions, including progress on more than 250 measures as part of the Growth Review. Developing an Industrial Strategy gives new impetus to this work by providing businesses, investors and the public with more clarity about the long-term direction in which the Government wants the economy to travel.

BIS's online newsroom contains the latest press notices and speeches, as well as video and images for download. It also features an up to date list of BIS press office contacts. See http://www.bis.gov.uk/newsroom for more information.
Notes to Editors
Contact Information
Name BIS Press Office Job Title
Division Department for Business, Innovation & Skills Phone
Fax
Mobile
Email bispress.releases@bis.gsi.gov.uk
Name Veena Mapara Job Title
Division Department for Business, Innovation & Skills Phone 020 7215 5614 Fax
Mobile
Published 1 October 2012