New sentences and criminal offences come into effect
From 3 December 2012 new offences of aggravated knife possession come into force.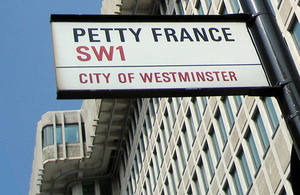 Alongside this a mandatory life sentence for people convicted of a second very serious sexual or violent crime and a new offence of causing serious injury by dangerous driving, which carries a maximum five year custodial sentence, will come into effect.
The new offences and sentences are part of a wide range of provisions introduced in the Legal Aid Sentencing and Punishment of Offenders (LASPO) Act 2012.
Justice Secretary Chris Grayling said: 
'Criminals should be in no doubt they will be punished for their crimes, with those who commit the most serious offences receiving the most severe sentences.
'Anyone who commits two very serious sexual or violent offences will get a life sentence, those who try to destroy our communities by threatening and endangering people with knives will face a mandatory custodial sentence and those who devastate lives by dangerous driving will face the harshest penalties.'
The provisions coming into effect on 3 December 2012 include: 
'Two strikes' - mandatory life sentence for people convicted of a second very serious sexual or violent offence;
New Extended Determinate Sentence (EDS) - new sentence for dangerous criminals convicted of serious sexual and violent crimes with no automatic release from prison halfway through their sentence. They will only be released when they have served at least two-thirds of their prison sentence and may be kept inside prison until the end of their term;
Knife possession - New offences to target those who use a bladed or pointed article or offensive weapon in a public place or school to threaten and cause immediate risk of serious physical harm to another. These offences will be subject to a maximum penalty of 4 years' imprisonment. They will also carry a minimum six month prison sentence for adults or a four month Detention and Training Order for 16 - 17 year olds;
Dangerous driving - new offence of causing serious injury by dangerous driving with a maximum sentence of five years in prison;
Tough new sentences for hate crime - starting point of 30 years in prison for people convicted of murder motivated by hatred or hostility towards disability or transgender people, up from 15 years. This will bring it in line with murders aggravated by race, religion and sexual orientation;
Tougher community sentences - increase in the maximum length of a curfew requirement in a community sentence from 6 to 12 months, increasing the maximum period of time criminals can be subject to a curfew from 12 to 16 hours per day. Introducing foreign travel bans; and
Challenge bail decisions - allow prosecutors to challenge Crown Court bail decisions where there is serious risk of harm to a member of the public. 
The LASPO Act 2012 contains a number of provisions to reform sentencing, reduce offending and reform legal aid. The measures in the Act are being enacted in stages, a new criminal offence of squatting came into effect in September 2012. The remaining provisions will come into effect in 2013.
Notes to editors 
The Legal Aid Sentencing and Punishment of Offenders Act 2012 gained Royal Assent on 1 May 2012. Read an overview of the Act.
Information about how the justice system works, how judges reach their sentencing decisions and how courts in each area are performing is available on the Open Justice website.
For more information, please call the Ministry of Justice press office on 020 3334 3536. Follow us on twitter @MoJGovUK
Published 2 December 2012