Press release
New Senior Independent Director appointed at The Green Investment Bank
Vince Cable has announced the appointment of Tony Poulter as Senior Independent Director at the UK Green Investment Bank Plc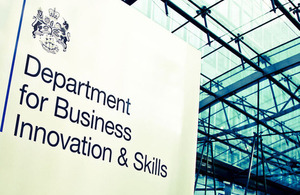 Business Secretary Vince Cable has today announced the appointment of Tony Poulter as Senior Independent Director at the UK Green Investment Bank Plc (GIB).
Mr Poulter succeeds Sir Adrian Montague who has now stepped down as a director of GIB. He is a partner at PricewaterhouseCoopers, where he continues in his position as Global Head of Consulting.
Business Secretary Vince Cable said:
I am very pleased to appoint Tony Poulter as Senior Independent Director of GIB. His knowledge of infrastructure investment makes him ideal for the role. GIB was established by government to accelerate the UK's transition to a greener economy and Tony will have an important role to play.
GIB Chairman, Lord Smith of Kelvin said:
I am delighted to welcome our new Senior Independent Director to the board. Tony brings a strong track record of leadership in infrastructure investment and I look forward to working closely with him to build on the positive start GIB has made in its first financial year.
Notes to editors:
The UK Green Investment Bank was launched in November 2012. It has now been allocated £3.8 billion of government funding for the period to March 2016. It is a "for profit" bank, whose mission is to accelerate the UK's transition to a greener economy, and to create an enduring institution, operating independently of government. Further information including the Bank's first annual report can be found at www.greeninvestmentbank.com.

Tony Poulter has been the Global Head of Consulting at PricewaterhouseCoopers since 2007. He joined the firm (which was then Price Waterhouse) in 1988, becoming a partner in 1990. He has held positions including Head of Project Finance (1994 to 1998), Global Head of Project Finance and Privatisation (1998 to 2003) and Head of Advisory in Asia (2003 to 2006). Prior to joining the private sector he was a civil servant from 1979 to 1988.

The government's economic policy objective is to achieve 'strong, sustainable and balanced growth that is more evenly shared across the country and between industries'. It set four ambitions in the 'Plan for Growth', published at Budget 2011:
to create the most competitive tax system in the G20
to make the UK the best place in Europe to start, finance and grow a business
to encourage investment and exports as a route to a more balanced economy
to create a more educated workforce that is the most flexible in Europe.
Work is underway across government to achieve these ambitions, including progress on more than 250 measures as part of the Growth Review. Developing an Industrial Strategy gives new impetus to this work by providing businesses, investors and the public with more clarity about the long-term direction in which the government wants the economy to travel.
Published 12 July 2013