New Secretary of State sends message to Defence staff
The new Secretary of State for Defence, Dr Liam Fox, has issued the following message to all Defence staff.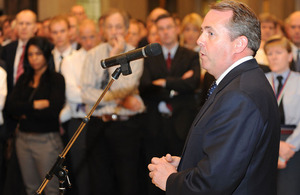 The first duty of Government is to protect our way of life and provide security for our citizens. That is why I am proud and honoured to have been appointed as Defence Secretary by the Prime Minister David Cameron. I would like to pay tribute to my predecessor, Bob Ainsworth, who always had the best interests of the Armed Forces at heart.
Britain's Armed Forces are rightly respected both at home and abroad, and widely regarded as among the very best in the world. During my five years as Shadow Defence Secretary I have been privileged to see them at work in Iraq, Afghanistan and elsewhere.
As a nation we have a responsibility to ensure they have our full support in return for the selfless service and sacrifice they are prepared to make in our name. The new Government will honour that duty with a new Tri-Service Covenant that will set out our obligations and commitments to the men and women of our Armed Forces, their families and veterans.
The campaign in Afghanistan is a national security imperative. We are there out of necessity not out of choice. I am determined that alongside our ISAF partners we will succeed. We will ensure that our Forces have the equipment and support they need to do what we ask of them.
Defence faces major challenges over the next few years. In today's uncertain world, it is essential that we maintain a highly dedicated and professional body of servicemen and women with the capability to defend our national interests whenever they are called on to do so, and a strong cadre of professional defence civilians to undertake the distinctive tasks for which they are responsible.
A review of Defence is long overdue but the needs of our Armed Forces can no longer be considered in isolation from other security challenges we face. We will be taking forward a Strategic Defence and Security Review, working with other Government Departments including the new Foreign, Development and Home Secretaries as part of the new National Security Council.
Our aim must be to ensure that Britain's defence is based on a clear definition of our strategic interests, an assessment of our role in NATO and other partnerships, the threats we face, the military capabilities we need to protect our interests, and the programmes we need to deliver those capabilities.
Resources will be tight for the country as a whole and Defence is no exception. We must make sure that we make every penny spent on Defence count. This means we will have to look again at all that we currently do, including the organisation and structure of the Department, each of the Services and the support area to ensure that we can undertake confidently and effectively the key tasks for which MOD is responsible.
We need to confront these issues head on and ensure that we emerge from the review with a clear way ahead for Defence that meets the needs of the current counter-insurgency campaign in Afghanistan but also ensures that we are well prepared for whatever the future may bring. I will set the work in hand straight away, to deliver before the end of the year.
I look forward to working with you all to tackle the challenges we face. With your support, I know we will do so successfully.
Published 12 May 2010