New scheme backs public choices on aid spending
The Government launched UK Aid Match today – a new scheme which gives the British public a say in how part of the development budget is spent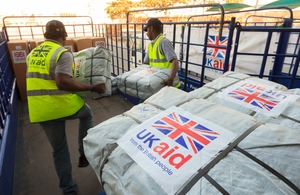 The Government launched UK Aid Match today - a new scheme which delivers on its commitment to give the British public a say in how part of the development budget is spent.
UK Aid Match was developed from public feedback to a consultation held earlier this year. The new scheme will match, pound for pound, donations that the public give to charity appeals focussed on international development causes.
The scheme will contribute to the Government's promise to communicate clearly the results of aid projects as well as ensuring all aid spending is done transparently.
Charities will be able to apply for the Government to match the public's donations to their fundraising appeals to tackle global poverty.
Andrew Mitchell said:
By match-funding public donations to development appeals, the Government will recognise the public's choice by directing funds from the aid budget to the international development organisations they choose to support.

This will give the public a say in how part of the aid budget is spent, and contribute to poverty reduction in developing countries.
Apply now
DFID is now inviting applications to the scheme. Information about how to apply to the scheme can be found in the Funding Opportunities section of our website.
Applications can be made by any not-for-profit organisation running projects to reduce poverty in the developing world, or by any organisation publicising an appeal for such organisations.
Once the organisation's public appeal is complete, DFID will match the sum it has raised for international development causes.
Any project or organisation that helps poor people in developing countries, and which delivers projects which are consistent with DFID's values and priorities, will be considered.
For example, this could include a project to distribute bed nets in a malaria affected region, core funding for an organisation that works to reduce the spread of HIV or a project to improve education outcomes in the world's poorest countries.
Applications will be assessed throughout the year, and the pilot of the scheme will run until June 2012.
Published 30 June 2011