New restorative justice register launched
More offenders will face the consequences of their actions after the launch of the first-ever register of restorative justice practitioners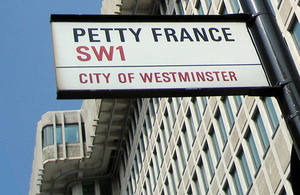 Restorative Justice has been shown to help reduce re-offending by making offenders understand the pain they have caused. The practice, already used in some areas of England and Wales, ensures that victims, who are willing, are able to meet their offenders, to explain the impact of the crime and to make offenders face up to their actions.   It performs the vital function of empowering victims and communities to overcome the negative impact of crime - with 85% of victims who have taken part reporting a positive experience.  
Justice Minister Crispin Blunt said:
'Restorative Justice is a unique process that helps to repair the damage caused by crime as well as helping to stop offenders committing further crimes. It demands criminals take an active role in acknowledging the harm they have caused, as well as making amends.   'If we are to better tackle the rate of criminals who reoffend, and so bring down crime, we are clear that we must have robust programmes of both punishment and reform available to our courts.
'Making criminals see for themselves the consequences of their actions, as well as undertake tough punishments, can be an effective part of this; and crucially, this gives victims a say in how offenders make amends.
'The register we are launching today will encourage the increased use of Restorative Justice by making it quicker and easier to find a local practitioner, as well as acting as the first-ever benchmark of quality and professionalism that ensures victims are safeguarded.'  
Lizzie Nelson, Director, RJC, said:
'The impact recent riots have had on local communities demonstrates just how relevant restorative justice can be in today's society, giving victims and communities a voice, and making sure offenders repair the damage caused to local communities. The launch of the practitioner register marks a significant step towards restorative justice being recognised as an effective solution to rehabilitating those convicted, reducing crime in England and Wales and enabling victims to move forward in their lives.'  
Reformed offender Scott said:
'When I heard about the pain I caused I couldn't understand why I did it and I felt sick hearing that.
'I'm doing a course now to give up the drugs and am getting my life back on track through voluntary work and clearing up graveyards.
'I can't do burglaries now, because I keep hearing Michelle's words in my head and it stops me doing it.'
The practitioner register will provide professional recognition for practitioners across a wide range of sectors and offer a benchmark for this forward-thinking justice process. It will offer the following benefits:
Provide professional recognition for practitioners using these skills, which have been shown to reduce re-offending and meet victims' needs
Give employers confidence that their staff are working to national standards, delivering a safe and effective process
Provide quality assurance for the public, giving victims in particular confidence that the process they are being offered is safe and focussed on their needs.
Restorative Justice is not intended as a replacement for a custodial or community sentence however it can work alongside it.
Notes to Editors:
The Ministry of Justice allocated £25,000 in 2009/10 and £75,000 this financial year to the RJC to support their work in providing quality assurance to Restorative Justice schemes through the dissemination of best practice, standards and accreditation. This includes the development of a new online national Trainers Register and new Practitioner Register.
For more information on the register or to register as a practitioner, please go to:
http://www.restorativejustice.org.uk/quality_assurance/rjc_register_of_restorative_practitioners/
About the RJC:
The Council provides quality assurance and the national voice for the field of restorative practice.   It is the independent third sector membership body for the field of restorative practice. The patron is HRH, the Princess Royal.   Their members are practitioners, training providers, organisations providing restorative practice across the country, and individual supporters. All RJC members receive monthly e-bulletins and quarterly newsletters, dedicated member-only resources and forums online, discounted entry to RJC events, and free telephone advice. 
CASE STUDIES AVAILABLE UPON REQUEST 3. For further information please call the Ministry of Justice Press Office on 0203 33 4 3536
Published 13 September 2011