News story
New research shows businesses with a difference face unique challenges
These findings are outlined in new research from the Better Regulation Delivery Office (BRDO), which interviewed bosses of 'diverse businesses…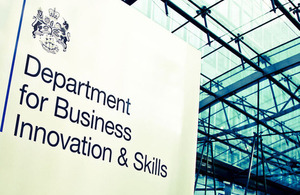 These findings are outlined in new research from the Better Regulation Delivery Office (BRDO), which interviewed bosses of 'diverse businesses', which can include those run by people whose first language is not English, those from black and minority ethnic groups, women-only businesses or enterprises set up by recent migrants. The research, carried out for BRDO by GHK consulting, found that these companies:
face unique additional challenges including language barriers and lack of familiarity with regulatory requirements
experience significant issues relating to port regulations
face specific barriers, as they are concentrated in particular sectors such as services, retail, food and drink (markets with low barriers to entry for setting up in business, but which face more complex regulations)
may deal with implied or passive differences in treatment as a result of inspectors not accounting for the cultural diversity of the business owner
often believe local regulation is a barrier to economic growth.
look elsewhere for their information rather than going straight to regulators, signalling a lack of trust in 'authority'.
Business Minister, Michael Fallon, said: "A good regulator can support and drive growth, as long as it is sensitive to cultural and other differences, and I want to encourage that.
"We know that providing a more tailored approach works. For example, businesses with a Primary Authority relationship - where businesses have a single point of contact for advice on regulation wherever they trade - can be better equipped to deal with regulatory compliance issues than those businesses who do not have the support this type of relationship brings."
The research found diverse businesses are becoming a significant part of the economy, particularly in the SME sector, with immigration trends suggesting this will increase during the next decade.
BRDO has identified a number of ways regulatory barriers can be broken down. Key initiatives include maximising opportunities from Local Enterprise Partnerships and Primary Authority as well as the common approach to competency for regulators and tailoring regulatory approaches and communications channels to specific needs.
**Notes to editors:
**1. The GHK consulting research into diverse businesses _is available here: http://www.bis.gov.uk/brdo/business/business-diversity
_2. The Better Regulation Delivery Office is a streamlined independent body that will ensure the voice of business is heard in regulation policy. It was created on 2 April 2012 (and was formerly known as the Local Better Regulation Office - LBRO).
The Primary Authority scheme means businesses have a single point of contact for assured advice on regulation wherever they trade in England and Wales and is one of the many ways the Government is cutting red tape for firms. Primary Authority supports targeted, risk-based inspections by delivering earned recognition for compliance, and the evidence shows that the scheme reduces burdens for both businesses and regulators.

The Government's economic policy objective is to achieve 'strong, sustainable and balanced growth that is more evenly shared across the country and between industries.' It set four ambitions in the 'Plan for Growth' (PDF 1.7MB), published at Budget 2011:
To create the most competitive tax system in the G20.
To make the UK the best place in Europe to start, finance and grow a business.
To encourage investment and exports as a route to a more balanced economy.
To create a more educated workforce that is the most flexible in Europe.
Work is underway across Government to achieve these ambitions, including progress on more than 250 measures as part of the Growth Review. Developing an Industrial Strategy gives new impetus to this work by providing businesses, investors and the public with more clarity about the long-term direction in which the Government wants the economy to travel.
BIS's online newsroom contains the latest press notices and speeches, as well as video and images for download. It also features an up to date list of BIS press office contacts. See http://www.bis.gov.uk/newsroom for more information.
Notes to Editors
Contact Information
Name BIS Press Office Job Title
Division Department for Business, Innovation & Skills Phone
Fax
Mobile
Email bispress.releases@bis.gsi.gov.uk
Name Aidan Steer Job Title
Division Department for Business, Innovation and Skills Phone 020 7215 5245 Fax
Mobile
Published 18 October 2012