World news story
New report outlines opportunities at Egypt and Libya's ports
UKTI event to highlight business opportunities in the Egypt and Libya ports sector.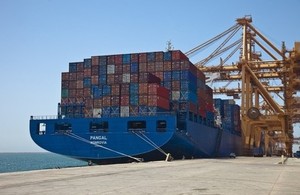 UK Trade and Investment (UKTI) is organising an event in London on 6 March 2014 to explore the latest report on export opportunities in Egypt and Libya's ports for UK businesses. This event will include:
information on new developments in post Arab Spring Egypt and Libya
an advanced look at real opportunities for UK businesses
tailored advice from UKTI officials based in Cairo and Tripoli
meeting the author of the report and hearing a presentation on the findings
networking with other UK exporters
As part of the registration process all companies will receive a welcome pack including country business guides. An electronic copy of the report will be available after the launch event.
Business opportunities in the Libya and Eygpt ports sector
Thursday 6th March 2014, 9.30am to 4pm
Royal Overseas League, Park Place
St. James's Street, SW1A 1LR
Opportunities
UKTI has identified the following opportunity sectors for UK businesses:
management and consultancy services
education and training
ICT
advanced engineering
security
construction, design and engineering services
financial, legal and professional services
logistics and infrastructure services
material handling equipment
Background
Egypt and Libya are seeking to take advantage of their promising trade position as gateways to the Middle East and North Africa region. In post Arab Spring their focus has now turned to facilitating sustainable infrastructure growth to underpin this aim.
Registration/Contact
If you would like to register for this event or for more information please contact:
Becky Bryant:
Email: events@uktiprojects.co.uk
Tel: +44 (0)20 7697 1978
Published 7 February 2014