New report estimates value of Companies House data at up to £3 billion per year
Findings published in a report commissioned with the Department for Business, Energy and Industrial Strategy (BEIS) reveal the worth of our data to business, government, law enforcement and others.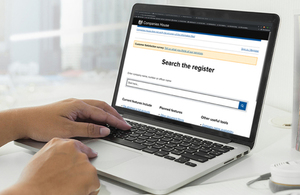 New research has estimated the value of Companies House data to users at up to £3 billion per year.
The findings have been published in a report commissioned by Companies House and BEIS, and sets out how the data benefits businesses, consumers and wider society.
Companies House incorporates and dissolves limited companies. We also register company information and make it available to the public. There are currently more than 4 million companies on our register and more than 600,000 new companies are incorporated each year.
Last year the Companies House register was accessed more than 6 billion times.
The report outlines the value of Companies House data for different types of user, assesses the changes in those values over time, and identifies the specific pieces of data that generate the greatest user value.
The research identified 3 main types of user:
Direct users, such as companies, creditors, investors and researchers, that use Companies House data to access information about registered companies in the UK.
Commercial users or 'intermediaries', who use Companies House data as an input to their own data products and services. This category includes credit reference agencies and other providers of financial data and information.
Providers of public goods, such as government departments or law enforcement organisations, who use the information during policy or investigative work.
The report found that:
in total, the annual user benefits of Companies House data are estimated to be between £1 billion and £3 billion per year
the annual benefit to direct users of Companies House data is estimated to be around £2,000 per user per year
larger and mid-sized groups of commercial or 'intermediary' users attributed £23 million of their revenues to the use of Companies House data
The report also carries testimonials from a government department, a transparency campaign group and a law enforcement agency. All 3 highlighted the importance of Companies House data to their work.
Louise Smyth, Chief Executive at Companies House, said:
As one of the most open registers in the world, we know that by making the information accessible more people will use it. Last year alone our data was accessed more than 6 billion times.

This research now shows how incredibly valuable Companies House information is to data consumers, ultimately helping to drive confidence in the UK economy.
Published 27 September 2019