New reforms to help reduce reoffending
New plans to support the rehabilitation of offenders and the reduction of reoffending were outlined today by Justice Minister Lord McNally.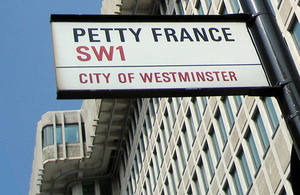 Lord McNally said the Government would remove some of the barriers which stop offenders who have served their sentences from getting back into honest work and help them to avoid drifting back into a life of crime.
The plans will reduce the amount of time after completing their sentences that some offenders have to declare their criminal record to prospective employers. However all offenders will still always have to declare their previous convictions when applying for jobs in sensitive workplaces like schools and hospitals or working with vulnerable people. The most serious offenders will continue to have to declare their record for the rest of their lives when applying for any job.
Justice Minister Lord McNally said:
'First and foremost, criminals must be suitably punished for their crimes. But it is no good for anyone if they go to jail and come out and then can't get an honest job and so turn back to crime again.
'That is why we are bringing forward reforms which will give offenders who have served their sentence a fair chance of getting back on the straight and narrow, while ensuring safeguards are in place to protect the public.'
The reforms will also simplify the way rehabilitation periods are set and will reflect better the seriousness of the sentences imposed. Under the new system they will start from the point when an offender completes their sentence, rather than at the date of their conviction as it is under the current regime.
So, for an example, an offender sentenced to two and a half years custody, who would previously have had to declare their criminal record for ten years (including their time in prison), will now serve their sentence and then have to declare their offences for four years (giving a total rehabilitation period of 6.5 years).
Under the reforms the rehabilitation periods will change to:
Sentence (custodial sentences include licence period) Current adult rehabilitation period, starting from date of conviction New adult rehabilitation period, starting from end of sentence. (with maximum total period of sentence and rehabilitation) Current youth rehabilitation period, starting from date of conviction New youth rehabilitation period, starting from end of sentence. (maximum total period of sentence and rehabilitation)
The Government has tabled an amendment to add the new measures to the Legal Aid, Sentencing and Punishment of Offenders Bill, which is currently progressing through Parliament.
The Bill already contains radical moves to reduce reoffending, improve the UK's sentencing framework and reform the legal aid system.
The Bill forms part of the Ministry of Justice's plans to:
make prisoners work harder, longer and on meaningful tasks
ensure prisoners earn money for victims, and not just for themselves
crack down on drug abuse inside prisons
demand more from offenders in tackling the root cause of their criminality
only put taxpayers' money into the programmes that work
create a new offence of aggravated knife possession, with a mandatory prison sentence of at least six months
double sentencing starting points to 30 years for murders motivated by transgender or disability hatred
reduce the £2.1billion per year legal aid bill for England and Wales but retain legal aid for cases where people's life or liberty is at stake, where they are at risk of serious physical harm, or immediate loss of their home, or where their children may be taken into care
reform the laws for no-win, no-fee so that the risks are equally balanced for both claimants and defendants and middle-men do not drive up insurance costs for individuals and fuel fears of a compensation culture.
Notes to editors
Information about the Legal Aid, Sentencing and Punishment of Offenders Bill
People can learn about how the justice system works, see how judges reach their sentencing decisions and find out about how courts in their area are performing at the Open Justice website
For more information, please call the Ministry of Justice press office on 020 3334 3536. Follow us on twitter @MoJGovUK
Published 3 February 2012