New Public Guardian appointed
Kenneth Clarke, has appointed Alan Eccles, as the new Public Guardian.   Alan Eccles…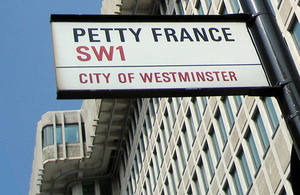 The Lord Chancellor and Secretary of State for Justice, Kenneth Clarke, has appointed Alan Eccles, as the new Public Guardian.
Alan Eccles takes over as Public Guardian and Chief Executive of the Office for the Public Guardian (OPG) as of this week, following a successful tenure as Delivery Director for London for Her Majesty's Courts and Tribunals Service (HMCTS). Alan is a qualified barrister with 30 years of experience working in the courts service.
The Public Guardian has statutory responsibilities in respect of people who lack the mental capacity to make decisions about their financial affairs or their welfare. The OPG registers Lasting Powers of Attorney, the key mechanism by which someone can nominate people they trust (attorney(s)) to make decisions should mental capacity become an issue. The Public Guardian also supervises deputies appointed by the Court of Protection, and investigates allegations of abuse against attorneys and deputies.
Alan Eccles said:
"I am looking forward to leading an organisation which is so focused on the people it exists to serve.
"Losing your mental capacity through illness or injury is traumatic enough. This organisation plays a vital role in helping people plan proactively for a time when they may not be able to make decisions themselves."
"I want to ensure the OPG continues to be an organisation which puts people first, as it continues to develop and mature."
Alan takes over from Martin John, who has been the Public Guardian since 2008. During that time the demand for OPG's services - particularly Lasting Power of Attorney registration - has nearly trebled. The organisation has expanded and relocated its services, with new offices in Birmingham and Nottingham, as it has developed its operating model. Coincidently, Martin moves in the other direction to Alan - he will join HMCTS in the post of Head of Civil, Family and Tribunals for London.
Martin John said:
"It is with a great sense of achievement that I hand over the role of Public Guardian and Chief Executive to Alan Eccles as I look ahead to the challenges of my new role.
"The OPG has changed fundamentally as an organisation during my tenure and this process will continue through digital transformation. I'm pleased that Alan takes over when LPA registration times are stable and demand for OPG's services has never been higher."
Notes to Editors
Further details about the role of the Public Guardian, and the work of the Office of the Public Guardian, is at http://www.justice.gov.uk/about/opg

For more information please contact Ministry of Justice Press Office, 020 3334 3536.
Published 3 April 2012