News story
New proposals to make cheque depositing easier and quicker to be unveiled
New proposals mean that in the future you may be able to use your smartphone to send a picture of cheque to your bank to pay it in.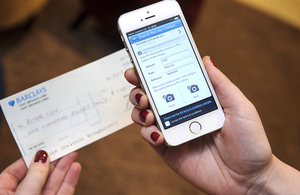 From next year you may not have to queue up in a bank branch to pay-in the cheque you get for Christmas.
You might not even have to wait for the bank to open.
Instead you'll be able to use your smartphone to send a picture of the cheque to your bank, and new technology could mean that your cheque is processed in 2 days in future rather than the 6 days it currently takes. You would also still be able to go into a branch to pay cheques in – banks will have the same technology.
Cheques are a crucial part of the British payments landscape – nearly £840 billion of cheques were processed last year – accounting for 10 per cent of all payments made by individuals. 23 million cheques were sent as gifts because they are still the most trusted method of sending money through the post.
And because they are so important it is vital that the government takes steps to secure their long term future.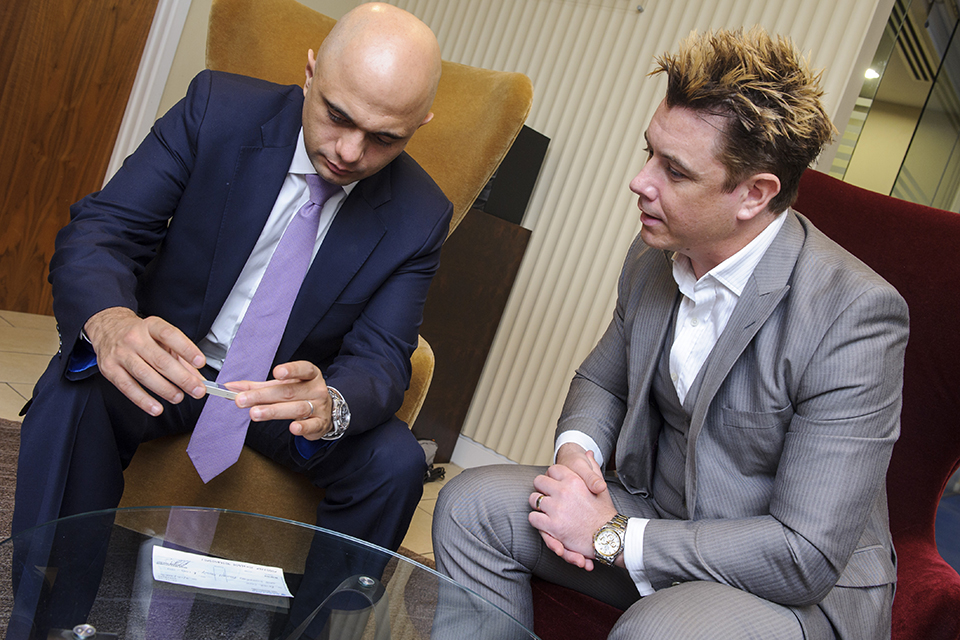 So in 2014, the government will consult on introducing legislation to speed up cheque payments and make it easier for businesses and consumers to use this important payment method in the 21st century. Consumers could see a real difference. No longer will customers have to wait 6 days before knowing that the money is theirs to spend.
These changes will boost the status of the cheque, reinforcing its relevance and trustworthiness in 21st century Britain.
These changes are not just about making it easier to cash gifts from family and friends. They are also designed to help businesses – who accounted for over 370 million cheque transactions in 2012. 25 per cent of payments made by small businesses were by cheque in 2012.
One option is to bring forward legislation to speed up cheque processing, enabling banks to process images rather than paper as they do today. This technology is already widely used in the United States. Consumers may also be able to take a picture of their cheque on their smartphone and send it to their bank with Barclays planning to introduce mobile cheque deposit next year.
Customers without smartphones will be able to use similar technology at cashpoints or branches or continue to pay in paper as they do now.
'Cheque imaging' does not require a hard copy of the cheque to be present at every stage of the paying-in process. That means that time spent transferring it between different banks and central clearing depots is saved as well as reducing the overall costs.
Financial Secretary to the Treasury, Sajid Javid, said:
The government is determined to create a banking sector that works for consumers and serves businesses.
We want to see more innovation so that customers see the benefits of new technologies. That is why we're creating a new payments regulator and why we are going to consult on speeding up the cheque clearing process.
We want to take the very best of the current system and make it better. We want to cheques to have a crucial role in the ongoing success of the UK.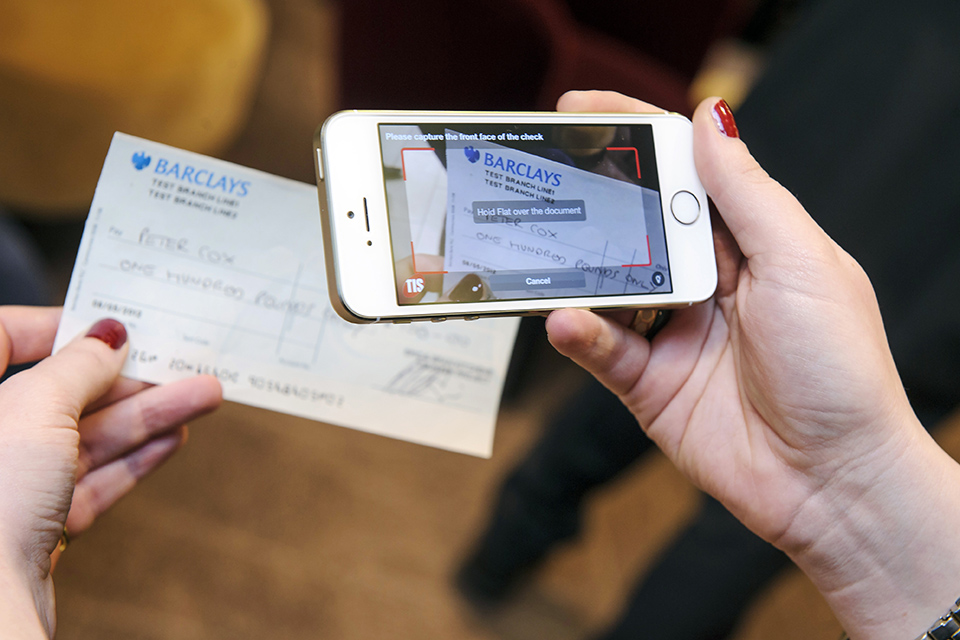 John Allan, national chairman of the Federation of Small Businesses said:
Many of our members, and their customers, still rely on cheques so will be pleased with the investment and innovation to ensure their continued use. Speeding up cheque payments into business accounts is to be welcomed as many find the current process frustratingly slow.
Using smartphones is an interesting idea which should allow firms in areas, particularly where bank branches are closing, to be able to accept cheques as a method of payment.
Adrian Kamellard, Payments Council chief executive comments:
Whether it's cheques, cards, electronic payments or cash the Payments Council believes that any innovation in the way we pay should be led by customer demand.
UK customers already enjoy contactless technology on their cards; internet and phone payments at the touch of a button; and next year thanks to a Payments Council project it will be possible to transfer money safely from a mobile phone using only a mobile phone number.
It's clear customers want as much choice as possible and given that customers have made it clear that they want cheques to stay it's entirely right that the government consults to understand the public's view on speeding up the clearing of cheques.
Graham Fisher, chief executive, Toynbee Hall added:
Financial Inclusion is about meeting the needs of all the population, from those who prefer more traditional services, to people who embrace technological advancements.
We welcome HM Treasury's announcement today that they are consulting on increasing the means by how people can access money through turning cheques into cash. Having financial inclusive systems for the whole population is vital and this is an important step towards it.
We look forward to seeing Treasury carry on providing existing methods, such as paying cheques in at a local branch or via the post, alongside cheque imaging.
Angela Thomas, managing director of the Cheque and Credit Clearing Company comments:
As customers have made it clear that they want cheques to stay, Cheque and Credit Clearing Company has been looking at ways of keeping cheque processing systems as efficient as possible.
As part of this vital work we have looked at what would need to be done if the entire industry wanted to offer cheque imaging alongside chequebooks: a move which would also speed up how long it takes for a cheque to clear.
As a very first step changes need to be made to cheque legislation and to these ends we have been working with government, consumers and businesses. Today's announcement represents a welcome and significant step forward to help us further prepare the ground.
Steven Roberts, managing director at Barclays added:
We're excited to be the first bank to pilot this new technology and always welcome legislation which enables the whole industry to work together to make customers lives easier. These changes mean you will be able to pay cheques in instantly, not just in branch, but also using your smartphone or tablet computer.
When you can download a book or a film in seconds, we believe you should be able to deposit a cheque in the same way.
This is just the beginning of how we want to transform the 'cheque clearing cycle' for our customers driving down the six days it currently takes a cheque to clear. We are planning to test the cheque imaging technology early in the New Year with a range of customers.
Alan Smith, head of payments and banking services at the Post Office said:
Post Office welcomes today's announcement from government on next year's consultation for cheque imaging.
This announcement is great news for our customers and will bring about a move for much needed improvements for clearing and processing cheques, including the move from paper to cheque imaging.
Images by Professional Images.
Published 26 December 2013