News story
New proposals to boost small businesses that support home buyers and sellers
Following on from the Red Tape Challenge, the Government's response to the consultation on amending the Estate Agents Act to encourage new business…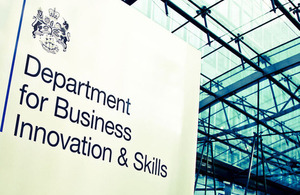 Following on from the Red Tape Challenge, the Government's response to the consultation on amending the Estate Agents Act to encourage new business models_ _confirms plans to exempt intermediary agents which help homeowners privately advertise and sell their houses from the Estate Agents Act 1979 (EAA). Government will also repeal the Property Misdescriptions Act 1991 (PMA) which currently requires these businesses to check the accuracy of advertised property details. The PMA has largely been superseded by the Consumer Protection from Unfair Trading Regulations and the Business Protection from Misleading Advertising Regulations, which can be applied more flexibly and have a wider range of enforcement measures and protections.
The measures will ensure that these businesses do not face disproportionate costs as a result of regulations intended for traditional estate agents.
Jo Swinson said:
"A flourishing housing market is hugely important to the economy, and one of the ways to boost it is to cut through bureaucracy and allow people to buy and sell more easily. This is why we are proposing to change the rules so that businesses that facilitate private property sales aren't caught out by the regulations for estate agents.
"These intermediaries help buyers and sellers contact each other at a low cost, but don't engage in other estate agent activities, so it's unfair to expect them to go out and check all the property details of all the sellers on their websites. Reducing the regulations for these businesses will open up the market and increase choices for consumers looking to save costs when buying or selling a property.
"Selling privately can be a useful and cost efficient method, but consumers should always make sure they are well informed about the different levels of protection offered by these businesses compared to traditional estate agents."
Whilst most people prefer to use estate agents to sell their house, some opt to do the work themselves and sell privately in order to save on estate agent fees. In recent years, web-based intermediaries and portals have started hosting private property sales advertisements, but stop short of getting involved in the sales process. These types of intermediaries have low costs, and do not engage in estate agents activities, such as providing advice. Currently however, they may still be defined as estate agents under the EAA.
These changes arise from the Disruptive Business Models theme of the Government's Red Tape Challenge. Government will bring forward an amendment as soon as the parliamentary timetable allows.
**Notes to editors
**1. The consultation response is available to view at http://www.bis.gov.uk/Consultations/category/closedwithresponse
The Red Tape Challenge Disruptive Business Models theme can be found at http://www.redtapechallenge.cabinetoffice.gov.uk/themehome/disruptive-business-model/. The other outcomes of this theme will be announced later this month.

The OFT has today issued new guidance to property sales businesses to help them understand their responsibilities under the Consumer Protection from Unfair Trading Regulations 2008 and the Business Protection from Misleading Marketing Regulations 2008.

Revised guidance will be published by BIS, which will explain which activities are exempted from regulation, which include:
providing a mechanism for buyers to search for details of properties in a particular area;

providing a means for buyer and seller to communicate with one another directly;

providing a For Sale board to advertise properties for sale and where further details can be found;

providing the seller's basic property details to a prospective buyer on request; and

signposting to freely available information, or to businesses that offer ancillary services.
It will also show those activities that will remain within the scope of the EAA, which include:
providing advice to a seller or a prospective buyer about a particular property;

acting on behalf of the seller;

preparing property details on behalf of a seller;

involvement in the negotiation process over the sale or purchase including passing on offers to buy; and

referrals and recommendations to particular third parties providing ancillary services.
The Red Tape Challenge was launched by the Prime Minister in April 2011 and is systematically examining some 6,500 substantive regulations that the Government inherited with the aim of scrapping or significantly reducing as many of them as possible. It gives business and the public the chance to have their say, by theme, on the regulations that affect their everyday lives. It has also asked the public what red tape holds back Disruptive Business Models and Civil Society Organisations. The Government announced on 10 September 2012 that at least 3,000 of the regulations examined will be scrapped or reduced. More information on Red Tape Challenge is at www.redtapechallenge.cabinetoffice.gov.uk**
**7. The Government's economic policy objective is to achieve 'strong, sustainable and balanced growth that is more evenly shared across the country and between industries.' It set four ambitions in the 'Plan for Growth' (PDF 1.7MB), published at Budget 2011:
To create the most competitive tax system in the G20

To make the UK the best place in Europe to start, finance and grow a business

To encourage investment and exports as a route to a more balanced economy

To create a more educated workforce that is the most flexible in Europe.
Work is underway across Government to achieve these ambitions, including progress on more than 250 measures as part of the Growth Review. Developing an Industrial Strategy gives new impetus to this work by providing businesses, investors and the public with more clarity about the long-term direction in which the Government wants the economy to travel.
BIS's online newsroom contains the latest press notices, speeches, as well as video and images for download. It also features an up to date list of BIS press office contacts. See http://www.bis.gov.uk/newsroom for more information.
Notes to Editors
Contact Information
Name BIS Press Office Job Title
Division Department for Business, Innovation & Skills Phone
Fax
Mobile
Email bispress.releases@bis.gsi.gov.uk
Name Syeda Hasnain Job Title
Division Department for Business, Innovation & Skills Phone 020 7215 6245 Fax
Mobile
Published 13 September 2012