World news story
Angola: New procedure for payment of visa application
From 16 December 2013 all applications for a UK visa must be completed and paid for using an online application and payment system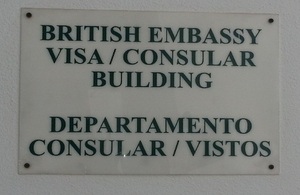 From 16 December 2013 all applications for a UK visa must be completed and paid for using an online application and payment system at www.visa4uk.fco.gov.uk before going to the visa application centre at the British Embassy in Luanda to submit a printed copy of the application form and biometric data (fingerprints and photograph). The visa application centre will only accept applications from those who have applied, paid for and booked an appointment online.
You can pay online using Visa or MasterCard debit or credit cards. Please ensure you have sufficient funds available before you apply and pay. Payment online will need to be made in South African Rand (ZAR). When you have paid your fee online you will receive a payment confirmation email from WorldPay. You should print this confirmation email and take it with you to the visa application centre when you submit the rest of your visa application.
If you intend to travel on a work, study or settlement visa, you can ask your UK sponsor to make the online payment.
The move to on-line payment meets the requirements of the UK Government's 'Digital by Default' initiative and will help cut costs in the management of the UK visas operation, which in turn helps to keep visa fees down. It will also be a safer system for both customers and staff as it reduces the risk associated with handling large amounts of cash during the visa application process.
Further information about how to apply for a visa to the UK is available at www.ukba.homeoffice.gov.uk/countries/angola/
Published 13 December 2013