New prisoner escort contracts awarded
Plans to award four new contracts for the Prisoner Escort and Custody Services to Geo Amey PECS Ltd and Serco Ltd, have been announced.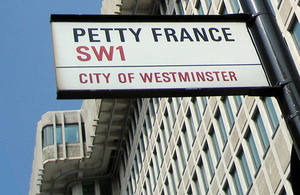 Innovative new arrangements for escorting prisoners within England and Wales will save the Government over £250m, a saving of 20 percent over the seven year contract.
The PECS contracts will now include all inter-prison transfer but will exclude all Category A prisoner movements which will be managed by the Prison Service.
Kenneth Clarke, Lord Chancellor and Secretary of State for Justice said:
'The Ministry of Justice is committed to making its contribution to reducing public borrowing and achieving best value for money for the taxpayer. This competition process has achieved significant savings and has also improved the current escort arrangements.
'Through innovative partnership working, we will be able to deliver prisoners to court far more efficiently and effectively.
'The competition process has been open and robust and I think this helps to underline the benefits that competition can bring to the efficient and better delivery of community and custodial services.'
Notes to editors
Read the Written Ministerial Statement announcing the award of contract.
Geo Amey PECS Ltd is a joint venture between The Geo Group Ltd and Amey UK Plc.
The seven year contracts have been awarded across four geographical areas. The contracts have been awarded to:
South West / South East - Geo Amey PECS Ltd
London / East of England - Serco Ltd
East Midlands /Yorkshire and Humberside / North East - Geo Amey PECS Ltd
North West / West Midlands / Wales - Geo Amey PECS Ltd
PECS has been managed by private sector providers since 1994. This is the third time the services have been competed.
The new contracts will realise significant savings, with expected savings of £29m in the first year of the contract, including over £17m in the remainder of the 2011/12 financial year and £261m over the full seven year contract.
The new arrangements, including the revised escort area boundaries, will come into place from 29 August 2011.
For further information please contact the Ministry of Justice press office on 020 3334 3536.
Published 16 March 2011