New powers for the green fingered to protect allotments
New community powers giving people rights to shape development in their neighbourhood could provide a bumper crop of allotments, Planning Minister…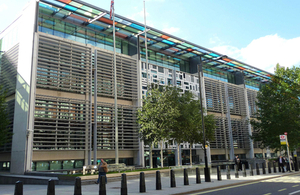 New community powers giving people rights to shape development in their neighbourhood could provide a bumper crop of allotments, Planning Minister Greg Clark announced today.
There is a growing interest from the green fingered wanting to grow their own fruit and vegetables but sites are becoming increasingly scarce. Research commissioned but unpublished by the previous Government that has been put online today reveals that in the period 1996 to 2006 the number of allotment plots fell by 50,630.
This legacy of decline has made it increasingly difficult for people to live the good life. Today 59 people are waiting for every 100 plots in contrast to 1996 when there was an average of 4 people waiting for every 100 plots.  
The Government is committed to turning this situation around and ensuring that allotments remain available to communities for years to come.
New neighbourhood planning powers currently being trailed across the country provide communities with a means to boost the number of sites with powers to protect existing allotments and identify new plots. In addition requirements for councils to provide allotments will be safeguarded as part of a wider review into reducing statutory burdens on local authorities.
The new right for communities to create a neighbourhood plan is being introduced in the Localism Bill. It will allow local people to set out the exact locations of sites that can be used for new allotments and those sites they want protected in the future. Once a neighbourhood plan had been independently assessed and passed by the community in a local referendum, a council will be obliged to adopt the plan.
Mr Clark said:
More and more people want to grow their own vegetables but sites are becoming unnecessarily difficult to come by.  We need to stop this decline in allotments especially as people are so eager to enjoy the fruits of their labour.

People who get behind Neighbourhood Planning and develop a plan have real powers to not only protect existing sites but create more plots for the whole community to enjoy.
Donna McDaid, National Secretary of the National Society of Allotment and Leisure Gardeners said:
It is great news that people can now help ensure allotments remain available to communities for years to come.  We are always being told to be environmentally friendly and to reduce our carbon footprint wherever we can and allotments can go a long way in helping us achieve that. 

There is growing interest in community grown food, and allotments have an important role in providing space for groups to grow their own produce.
About 300,000 people are already using allotments, which have an important role to play in helping to reduce carbon emissions. The combined plots in England and Wales are capable of producing more than 240,000 tons of food. The same amount of imported produce is equivalent to 116 journeys by 40 ton articulated lorries each week.
Notes to editors
Neighbourhood Plans will give communities radical new rights to determine the look and feel of their area and a much greater ability to shape local development. Local people will be able to use Neighbourhood Plans to allocate land for allotments.

Further detail on Neighbourhood Planning proposals and the seventeen communities currently trialling Neighbourhood Planning can be found at: http://www.communities.gov.uk/news/corporate/1879129. In Bermondsey, for example, the community is looking at whether green space on council estates could be used to provide allotments, as part of their neighbourhood plan.

The report Allotments in England Report of Survey 2006 is published for the first time today. The report is a partial survey of local authorities, which examines comparisons and trends relating to allotments for the period 1996-2006. It demonstrates a reduction of plots and sites; reduction of vacant plots and an increase in waiting list numbers across all allotments, including in community gardens and city farms.
Section 23 of the Small Holdings and Allotments Act 1908 states that allotment authorities (parish councils or district councils) must provide a sufficient number of allotments and let them to persons resident in the area (where they are of the opinion that there is a demand).  This duty is amended for inner London boroughs to a discretionary power to provide allotments by section 55(4) of the London Government Act 1963. There are no plans to change this requirement.

The Government does not intend to remove the statutory requirement that local authorities must seek the Secretary of State's agreement to dispose of or use statutory allotments for other purposes.

Surveys undertaken by West Kirby Transition Town in conjunction with the National Society of Allotment and Leisure Gardeners show waiting lists for allotments are considerable.  The latest survey conducted in 2010 estimated that more than 94,000 people are on waiting lists for 159,000 statutory plots managed by principal local authorities (not including those run by parish or town councils or allotment associations).  This equates to 59 people waiting for every 100 plots.  In 1996 there was an average of 4 people for every 100 plots.

The National Society of Allotment and Leisure Gardens report that the 330,000 combined plots in England and Wales are capable of producing more than 241,560 tons of food.This is equivalent to 116 x 40 ton artic lorry journeys not taken each week, a saving of more than £75,000 in fuel.
Twitter
Keep up to date with the Department by following us on Twitter (external link).
Media enquiries
Visit our newsroom contacts page for media enquiry contact details.
Published 7 May 2011