News story
New power to boost consumers' access to data
Following a consultation this summer, the Government will announce that it will look to legislate if companies fail to comply with the voluntary…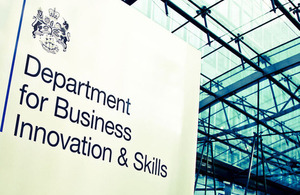 Following a consultation this summer, the Government will announce that it will look to legislate if companies fail to comply with the voluntary release of consumers' electronic data. Under new plans, companies would have to release data they hold relating to a consumer's consumption or transactions in an electronic machine readable format, upon request.
The power to legislate would be focussed on three 'core' sectors initially: current accounts and credit cards, the mobile phone and energy sectors with an additional power to extend the legislation to other sectors if appropriate. 'midata' was developed by BIS using insights and evidence from the Government's Behaviour Insights Team.
Employment and Consumer Affairs Minister Jo Swinson said:
"'midata' is all about putting power into the hands of consumers. Many businesses reap huge commercial benefits from the information they gather from consumers' daily spending patterns. Why shouldn't consumers also benefit from this by having access to their own data to enable them to make better choices?
"It's great when your energy provider tells you how much gas or electricity you're using at any point in the year or when phone companies tell you which one of their tariffs suits you best. But it's even better when consumers can use that information to get better value for money deals or adjust their lifestyles.
"This is just one of many ways 'midata' can help, as businesses increasingly recognise sharing data as a means to deliver a better service for their customers."
Which? Executive Director Richard Lloyd said:
"The 'midata' programme can help put consumers in the driving seat of the information revolution while boosting competition and supporting growth among companies that provide the best products and services.
"We're pleased to see the Government putting in place measures to give people the right to see data that companies hold on them. Giving consumers more power with their personal data will help them make better use of their money, and that's not only good for customer-friendly businesses, but good for growth in the economy."
Alison Brittain, Group Director, Retail Division of Lloyds Banking Group said:
"Lloyds Banking Group welcomes the 'midata' initiative as a means of helping consumers take greater control of their finances. We have for some time provided our customers with the ability to download current account and credit card information as we know how important this is in helping customers make informed decisions.
"We have also led the industry in providing our customers with 'Money Manager' - a sophisticated online tool that allows them to plan, budget and make choices about their financial future."
The relationship between businesses and their customers has evolved to being more than simply buying products. With the popularity of loyalty cards, comparison sites and mobile applications, businesses are increasingly helping consumers manage their lives. 'midata' allows people to request their personal data from businesses in a useful format, to allow them to make the best choices for themselves in all their purchases.
'midata' has made significant progress as a voluntary measure, with more than 20 leading businesses in the energy, finance and telecoms sectors signing up. In the future people could benefit from a range of applications made possible by accessing and sharing data held on them by businesses, for example by:
viewing their data to see which energy or mobile tariff suits them better;

comparing the prices or looking at the health benefits of their food consumption, across all stores instead of just one, or;

keeping up to date via one application with the latest films, music or shows released tailored to their previous choices and personal taste

electricity companies printing QR codes on their bills containing all the information on a customer's tariff, usage patterns and supplier details - scanning that with a Smartphone can help consumers' instantly work out the cheapest tariff to be on based on consumption patterns
**Notes to editors
**1. The consultation response will be available to view online on Monday 19th November at http://www.bis.gov.uk/Consultations/category/closedwithresponse
To create the most competitive tax system in the G20
To make the UK the best place in Europe to start, finance and grow a business
To encourage investment and exports as a route to a more balanced economy
To create a more educated workforce that is the most flexible in Europe.
Work is underway across Government to achieve these ambitions, including progress on more than 250 measures as part of the Growth Review. Developing an Industrial Strategy gives new impetus to this work by providing businesses, investors and the public with more clarity about the long-term direction in which the Government wants the economy to travel. Strong, empowered consumers promote competition which contributes to economic growth.
BIS's online newsroom contains the latest press notices, speeches, as well as video and images for download. It also features an up to date list of BIS press office contacts. See http://www.bis.gov.uk/newsroom for more information.**
Notes to Editors
Contact Information
Name BIS Press Office Job Title
Division Department for Business, Innovation & Skills Phone
Fax
Mobile
Email bispress.releases@bis.gsi.gov.uk
Name Syeda Hasnain Job Title
Division Department for Business, Innovation & Skills Phone 020 7215 6245 Fax
Mobile
Published 17 November 2012