News story
New Postcomm Commissioners
Mike McTighe, Lord Blackwell, Stuart McIntosh and Wanda Goldwag have been appointed to help support the transfer of regulatory responsibilities…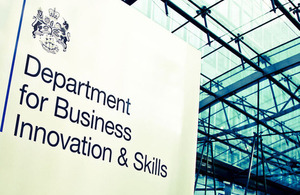 Mike McTighe, Lord Blackwell, Stuart McIntosh and Wanda Goldwag have been appointed to help support the transfer of regulatory responsibilities from Postcomm to Ofcom.
These are short-term appointments, which will come into immediate effect.
Edward Davey said:
"These appointments will bring a good mix of skills and experience to Postcomm. They will strengthen the already close working relationship between Postcomm and Ofcom and help to ensure a successful transfer to the new regulatory regime, which is provided for in the Postal Services Bill."
---
**Notes to Editors **
These short-term appointments have been made in accordance with a competition restricted to Postcomm Commissioners and Ofcom Board members as agreed with the Office of the Commissioner for Public Appointments (OCPA). These are part-time appointments: remuneration is £22, 824 for 3-4 days per month. Mr McTighe and Lord Blackwell have been appointed for 2 days a month. Mr McIntosh is an executive Member of the Ofcom Board and will not receive any remuneration in addition to his salary at Ofcom. Ms Goldwag has been appointed for up to 4 days a month - she has been a Commissioner since 2005 and has been reappointed under this competition for an additional period of up to 12 months.

All appointments are made on merit and political activity plays no part in the selection process. However, in accordance with the original Nolan recommendations, there is a requirement for appointees' political activity (if any declared) to be made public. Mr McTighe, Ms Goldwag and Mr McIntosh have not carried out any political activities on behalf of any political party over the past five years. Norman Blackwell is a Conservative Member of the House of Lords and has carried out political activities in support of the Conservative Party.
---
Biographical details
Mike McTighe was appointed to the Ofcom Board on 1 September 2007 for an initial three year term. He was reappointed on 27 October 2009 to serve a second three year term which will conclude 31 August 2013. He has held a number of directorships, and is currently Chairman of Pace plc, Chairman of Volex Group plc, Chairman of WYG plc, senior independent director of Betfair Group plc, and also chairman of a number of privately held technology companies. Mike also acts as a special advisor to General Atlantic, the US-based private equity firm. Previously he was Chairman & CEO of Carrier1 International SA, and before that Executive Director & Chief Executive, Global Operations of Cable & Wireless plc. Prior to these experiences, Mr McTighe spent five years with Philips of the Netherlands, five years with Motorola, and ten years with GE. Mike is Chairman of the Ofcom Audit Committee, and a member of the Ofcom Remuneration Committee.
Stuart McIntosh joined Ofcom as Competition Partner in January 2008 and was appointed to the Ofcom Board in July 2008. Prior to joining Ofcom, Stuart was a Strategy partner in IBM's communications practice in the US. Before that Stuart held senior positions in PWC, where he led PWC's Telecoms Consulting Practice, and Adventis, a boutique strategy consultancy. Stuart began his career as an Economist in the UK's Government Economic Service. He also worked for BT for a period of four years where he held the position of Head of Business Economics.
Norman Blackwell was appointed to Ofcom for three years, from 1 September 2009. He is currently Chairman of the Board at Interserve plc, the Senior Independent Director at Standard Life plc and a non-executive director of Halma plc. He is a Board member of the Centre for Policy Studies. He has previously held Non-Executive Director and Chairman positions at Office of Fair Trading, SEGRO plc, Corporate Services Group plc, Akers Biosciences Inc, SmartStream Technologies Ltd and Dixons plc. He was also Director of Group Development at NatWest Group plc from 1997 -2000. From 1995 to 1997 Norman Blackwell was head of then Prime Minister John Major's Policy Unit, where he co-ordinated domestic policy development across Whitehall. He was made a Life Peer in 1997 and remains an active member of the House of Lords with seats on the Delegated Powers and Regulatory Reform Committee and the Finance Bill Select Committee. Prior to 1995 he was a partner of McKinsey & Company, international management consultants. He holds an MBA and PhD in Finance and Economics from the Wharton Business School, University of Pennsylvania and an MA, Natural Sciences from Trinity College, Cambridge. He is a member of the Ofcom Nations and Remuneration Committees.**
**Wanda Goldwag **was appointed Postcomm commissioner on 1 April 2005, for an initial three-year term, and reappointed for a further three years in April 2008. Ms Goldwag has more than 25 years' experience in direct marketing, and started her career at Yves Rocher, the multi-national cosmetics company. Since then, she has held senior posts at Fidelity Investment Management, direct marketing agencies WWAV and Smith Bundy, Thorn EMI, Thomas Cook, and the British Airways-owned Air Miles loyalty scheme, where she was executive director. Ms Goldwag is currently a part-time adviser to Smedvig Capital Limited on its portfolio. She joined the company in May 2000. In addition, Ms Goldwag is also non executive director of the Performing Right Society, which collects licence fees for the public performance and broadcast of musical works, and its operating company MCPS-PRS Alliance Limited. Ms Goldwag is director of two human resources companies: You at Work Ltd, the employee benefits company, and True North Human Capital, the recruitment and talent management specialists as well as director of Goldwag Consultancy Ltd. and of International Copyright Enterprise Services AB a Swedish joint venture company between MCPS-PRS Alliance Limited and its Swedish equivalent Svenska Tonsattares Internationella Musikbyra upa.
Current Ministerial Public Appointments:
---
Norman Blackwell: Non-executive Member of the Ofcom Board: £42,519 for 1-2 days per week.
Mike McTighe: Non-executive Member of the Ofcom Board: £42,519 for 1-2 days per week.**
Stuart McIntosh: Executive Member of the Ofcom Board: 1-2 days per week. No remuneration received in addition to salary.**
Wanda Goldwag: Postcomm Commissioner: £22,824 for 3-4 days per month.
Postcomm is a non-Ministerial Department created by the Postal Services Act 2000. On Wednesday 13 October 2010, the Government introduced a new Postal Services Bill and published an accompanying document setting out its vision for the postal services sector. More information about the Postal Services Bill can be found on the BIS website at the following address: (http://www.bis.gov.uk/policies/business-sectors/postal-services). As part of the Coalition Government's Bill, the responsibility for regulating the mail industry will transfer to Ofcom with Postcomm being subsequently abolished (subject to Parliamentary approval of the Bill). The abolition of the Postal Services Commission is also foreshadowed in the Public Bodies Bill.
The current Postal Services Commission comprises:
Nigel Stapleton as Chair (to be succeeded by Millie Banerjee in January 2011)
Tim Brown (Chief Executive/Member)
Simon Batey (Member)
Stephen Littlechild (Member)
Lucy Scott-Moncrieff (Member)
Wanda Goldwag (Member)
BIS' online newsroom contains the latest press notices, speeches, as well as video and images for download. It also features an up to date list of BIS press office contacts. See http://www.bis.gov.uk/newsroom for more information.
Notes to Editors
Contact Information
Name BIS Press Office Job Title
Division COI Phone
Fax
Mobile
Email NDS.BIS@coi.gsi.gov.uk
Name Joe Upton Job Title
Division Department for Business, Innovation and Skills Phone 020 7215 5959 Fax
Mobile
Email Joe.Upton@bis.gsi.gov.uk
Published 17 December 2010