New politics at home, new partnerships abroad
Deputy Prime Minister Nick Clegg has addressed the Mexican Senate, the first senior British politician ever to be afforded the honour.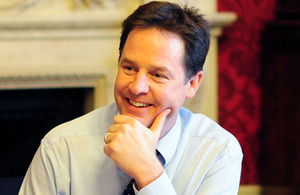 Mr Clegg's speech in Spanish emphasised the opportunities for political and trade links between Mexico in the UK, and discussed the historic and cultural inks between the two countries.
English - check against delivery
It's a privilege to come and speak to you today. Her Majesty's Government and the people of the UK share an immense admiration for the Mexican nation.
 
It is also a privilege to meet you here, in your Senate: a symbol of Mexican democracy.
 
Mexico's emergence in the world is most often described in economic terms. The 14th largest economy; predicted, by 2050, to grow to the 7th. The trade star of Latin America, now exporting more than Brazil and Argentina combined.
 
Yet you know better than anyone that Mexico's ascendency is about more than GDP.  Just as it has been underpinned by a modernising of the Mexican economy, equally it rests on a modernising of your political system too.
 
Prosperity in the modern world depends on free trade, on flexible labour markets, on skills and infrastructure. But it also depends on political stability, on legitimate institutions, and on public support.
 
The message from citizens the world over is this: they want political systems that move with the times.
 
Grievances vary from nation to nation. But the impulses are the same. Democracy and freedom are the watchwords of our age. The forces of openness and pluralism continue to gather pace.
 
That creates consequences for all governments. Not just despots and dictators. That is what I will talk about today.
 
We must each adapt our political systems to better fit our societies.
 
And just as we must pursue new politics at home, we must also advance it abroad: reforming international governance structures and establishing new alliances between open and democratic societies.
 
It is worth reflecting briefly on the forces that underpin the clamour for new politics.
 
The increasing flow of investment, people and goods across borders. Global communications and the unprecedented spread of ideas. The fading of traditional Cold War ideologies - no longer the glue that binds the world together. And, at the same time, our common humanity has been brought into focus by truly transnational problems - climate change, pandemics, financial crises, organised crime.
 
Together these trends undermine insular and authoritarian tendencies. They create a sense of connectedness between peoples. 
Including the UK. We have a long and proud democratic tradition. We are an affluent nation. Tolerant and peaceful.
 
But our political institutions aren't perfect. There is a gap between the autonomy people have come to expect, and the control they can actually exert. That's why my Government is implementing a comprehensive programme of reform - for which I have special responsibility - which seeks to disperse powers in ways that speak to modern British society.
 
We are transferring key decision-making powers, on healthcare, education, planning for example, away from our central executive to local government and local communities.
 
We are holding a referendum to give people a say over their electoral system. The Coalition is split on the best voting system for the UK. But we agree that it is up to the people to decide.
 
We are modernising our second chamber which, unlike so many others, still does not contain elected representatives.
 
Because People want their politics to make sense in their world. That's why, I believe our citizens have - on the whole - taken to coalition with remarkable ease. They have to work with people they don't necessarily always agree with. Why shouldn't we.
 
And don't forget, coalition has been extremely rare in the UK. Ours is the first since the Second World War. During the election it was frequently said that a hung parliament - where no party wins an overall majority - would be weak; power-sharing unstable; compromise paralysing. That has not, thankfully, been the case.
 
So that is the new UK Government. But responding to the new politics does not stop at domestic reform. We need new alliances between all societies who are seeking to modernise; to democratise; to work with others.
 
Partnerships between open societies. Like Mexico and the UK. Both plural, democratic, internationalist in spirit. Committed to human rights and freedom of expression. Fellow proponents of the new politics.
 
My trip marks, I hope, a period of intense and lasting re-engagement between our nations.
 
The message I bring from the UK is this: we do not take Mexico for granted. We seek stronger bonds between our nations: are a route to shared prosperity; and to advancing our common goals.
 
First, shared prosperity.
 
Trade is vital here. Currently, the UK makes up less than 1% of Mexico's imports, having been overtaken by our competitors - Germany, Spain, the Netherlands too.
 
It's entirely perverse. [Insert: Yet]  The UK trades extensively in almost every corner of the globe. Mexico's trade is now more than Brazil and Argentina combined. The World Bank has declared Mexico the easiest Latin American nation within which to do business. In Europe, the OECD has said the same about the UK.
 
At a time of continued uncertainty in the global economy no one, not even the fast growing nations, can afford to waste the opportunities this presents.
 
So President Calderon and I have agreed to work towards doubling bilateral trade by 2015. I have brought a business delegation with me today to foster greater understanding in each others markets.
 
There are also many ways in which we can learn from each other as we seek to create an environment for enduring, long-term growth.
 
For example, I, like many others, have been extremely impressed by the resilience of Mexico's banking sector following the global financial crisis. Mexican banks were better capitalised than their counterparts abroad - including in the UK
 
Equally, we can offer you our own unique expertise. In Education. Infrastructure. Science and research. In the shift to the low carbon economy. In innovation, creativity and design.
Precisely the areas Mexico is looking to develop as you now seek to diversify your economy.
 
We can, and we are, helping in the fight against drugs and organised crime. President Calderon and both Houses of Congress deserve enormous credit for efforts to tackle Mexico's drug cartels, and I know that over the last eighteen months this hard work has begun to show real results.
 
But I also know that this is not an easy fight. And the UK government is determined to assist you in any way we can. Not least through working with Mexican law enforcement to share our experiences and the techniques we have learnt to combat organised crime.
 
Of course, our partnership isn't just about our prosperity, or what we can do for each other. It's also about the wider world.
 
Democracy. Development. Free trade. Tackling poverty. Protecting biodiversity. Halting dangerous climate change. Countering the proliferation of nuclear weapons.
 
These are the goals we share. And we understand that, on each, the nations of the world are stronger together and weaker apart. That our best chance of success is through international action.
 
That is the new politics abroad. Collective, inclusive, international decision-making, governed by the rule of law.
 
So we welcome Mexico's commitment to multilateralism. We were heartened by the success of the Cancun Climate talks - proof that effective action can be agreed internationally - when stewarded with such skill.
 
We have high hopes for the G20 under Mexican chairmanship next year. Your Presidency will be critical to delivering the right framework for growth, for sound financial regulation, and for delivering on our promises to help the worlds poorest.
 
And on Doha, the UK government stands should to shoulder with you in our joint desire to complete the round and open up the nations of the world to each others' goods and services.
 
But the UK's support for the multilateral system as it stands is not uncritical. Our international institutions still do not reflect the modern power map. Many of today's key players are not properly represented and as a result the institutions are increasingly out of date.
 
And we are unequivocal in our view that collective international action must always adhere to the rule of law. The current intervention in Libya is a case in point. I opposed the Iraq war. I opposed it on the grounds that the legal case had not been proven, and the invasion did not have full collective support. The action in Libya, on the other hand, is different. It is right that we protect Libyan citizens from the crushing brutality of the Qadafi regime. And it is legitimate because it has unambiguous international support, and is grounded in international law.
 
So, to sum up: I hope my visit demonstrates the UK's seriousness about our partnership with Mexico. A country that understands the importance of openness and pluralism. Of the new politics, at home and abroad.
 
It's a new, reinvigorated partnership, but one that is built on old ties. One that will be good for Mexico, good for the UK and, I believe, as we advance our common goals, good for the wider world.
 
Thank you.
---
Español - check against delivery
Nueva politica interna, nuevas alianzas en el extranjero
Es un privilegio poder hablar hoy ante ustedes. El Gobierno de Su Majestad y el pueblo britanico comparten una inmensa admiracion por la nacion mexicana.  
Y es un privilegio reunirme con ustedes aqui, en el Senado: simbolo de la democracia de Mexico.  
La presencia de Mexico como potencia emergente en el escenario mundial se describe con frecuencia en terminos economicos. Es la Catorceava economia mas grande y, segun los pronosticos, sera la septima en 2050. Es lider comercial en Latinoamerica, exportando mas que Brasil y Argentina juntos.  
Pero ustedes saben mejor que nadie que el ascenso de Mexico no reside solo en el crecimiento de su PIB. Se sustenta tanto en la modernizacion de la economia como en la modernizacion de su sistema politico. 
La prosperidad en el mundo moderno depende del libre comercio, de mercados laborales flexibles y de buenas infraestructuras. Pero tambien depende de la estabilidad politica, de instituciones legitimas y del respaldo de la gente.  
El mensaje de la ciudadania en todo el mundo es este: quieren sistemas politicos que evolucionen con los tiempos.  
Las exigencias, por supuesto, varian de nacion a nacion. Nadie espera que la llamada a una reforma politica en Londres sea igual que en El Cairo, en Libia, en Estados Unidos o en Ciudad de Mexico. Pero el impulso es el mismo. La democracia y la libertad son la señal de nuestra epoca. Las fuerzas de apertura y pluralismo siguen acelerando el paso. 
Esto tiene consecuencias para todos los gobiernos. No solo para despotas y dictadores. De eso quiero hablarles hoy.  
Todos los gobernantes estamos llamados a adaptar nuestro sistema politico de forma que se ajuste mejor a nuestras sociedades.  
Y del mismo modo que debemos buscar una nueva politica interna, tenemos que trasladarla al plano internacional: hay que reformar las estructuras de la gobernanza internacional y hay que establecer nuevas alianzas entre sociedades abiertas y democraticas. 
Merece la pena una breve reflexion a proposito de las fuerzas que claman por una nueva politica.  
Las personas y las inversiones cruzan fronteras a un ritmo creciente y generan vinculos cada vez mas estrechos. Las redes de comunicacion global han propiciado una diseminacion de las ideas sin precedentes. Las ideologias tradiciones de la Guerra Fria ya no sirven para encajar las piezas del puzzle del mundo tal y como lo conociamos entonces.  La globalizacion, por otro lado, nos ha hecho mas vulnerables y hemos quedado a toda una serie de problemas trasnacionales, como el cambio climatico, las pandemias, las crisis financieras o la delincuencia organizada.  
En su conjunto, estas dinamicas minan las tendencias autoritarias y aisladas y propician la conexion entre los pueblos.  
Esta llamada a una nueva politica conforme a los nuevos tiempos tambien incluye, por supuesto, al Reino Unido. Somos un pueblo con una larga y orgullosa tradicion democratica. Somos una nacion prospera. Tolerante y pacifica.
Pero nuestras instituciones politicas no son perfectas. No lo son, incluo, segun nuestros propios estandares. Existe una brecha entre el poder que los ciudadanos esperan tener en las instituciones representativas y el control que puede ejercer en la realidad. 
Es por ello por lo que nuestro gobierno ha puesto en marcha un programa integral de reforma, dentro del cual tengo una especial responsabilidad. Nuestro principio rector es que debemos distribuir mejor el poder de forma que conecte con una sociedad britanica moderna.  
Estamos trasladando facultades clave en la toma de decisiones en materia de salud, educacion y planeacion -por citar algunos ejemplos- desde el ejecutivo central  a los gobiernos y comunidades locales.  
Asimismo, vamos a realizar en el mes de mayo un referendum para dar a la gente voz sobre su sistema electoral. Es verdad que la Coalicion esta dividida en torno a que sistema electoral consideramos el mejor, pero estamos de acuerdo en que la poblacion es la que debe decidir.   
Estamos, ademas, modernizando nuestra segunda camara para democratizarla,  de modo que los miembros de la Camara de los Lores ganen su asiento por eleccion y no por designacion.  
Los ciudadanos quieren que su politica tenga sentido en su mundo. Creo que por eso la poblacion britanica, en general, ha tomado la Coalicion de buena manera. Todos tenemos que trabajar con personas con las que necesariamente no estamos siempre de acuerdo. Por que no.  
La Coalicion rara vez ha tenido lugar en el Reino Unido. El nuestro es el primer gobierno de Coalicion desde la Segunda Guerra Mundial. Durante la campaña electoral,  a menudo, se decia que un Parlamento "colgado" -donde ningun partido tiene la mayoria- seria debil, inestable y comprometedoramente paralizante. 
Estamos demostrando que no es asi, haciendo frente con decision a las tremendas dificultades que nos ha tocado vivir.
Ese es el nuevo Gobierno Britanico. No obstante, esta nueva politica no acaba en la reforma interna. Necesitamos nuevas alianzas entre las sociedades que buscan la modernizacion y la democratizacion, que buscan colaborar y cooperar con otros.  
Alianzas entre sociedades abiertas; como Mexico y el Reino Unido: ambas plurales, democraticas y con un espiritu internacionalista; comprometidas con los derechos humanos y la libertad de expresion. Juntos en la propuesta de una nueva politica.  
Deseo fervientemente que mi viaje marque el inicio de un nuevo compromiso, intenso y duradero, entre nuestros paises.
El mensaje que traigo hoy del Reino Unido es este: no damos a Mexico por hecho. Buscamos nexos mas fuertes entre nuestras naciones como un camino hacia una prosperidad compartida y conseguir las metas que tenemos en comun.  
Primero, prosperidad compartida.  
El comercio es vital para ello. Actualmente, el Reino Unido representa menos de 1% de las importaciones de Mexico, muy por detras de nuestros competidores, como Alemania, España y Holanda.  
El Reino Unido desarrolla un extenso comercio practicamente en cada rincon del planeta. El comercio de Mexico supera al de Brasil y Argentina juntos. Es, segun el Banco Mundial, el pais con el que es mas facil hacer negocios en Latinoamerica; calificacion que, por cierto, otorgo la OCDE al Reino Unido en Europa.  
En tiempos de constante incertidumbre en la economia global, nadie, ni siquiera las naciones de mas rapido crecimiento, se pueden dar el lujo de dejar pasar la oportunidad que esto representa.  
Conforme a estas premisas, he acordado con el Presidente Calderon que trabajaremos intensamente con el objetivo de duplicar nuestro comercio bilateral de aqui a 2015. Deben saber que me acompaña en esta visita una delegacion comercial para conocer mejor nuestros mercados.
Existen muchas formas en las que podemos aprender el uno del otro mientras propiciamos un entorno favorable para un crecimiento duradero a largo plazo.
Por ejemplo, igual que a muchos otros, me impresiono notablemente la capacidad de respuesta de los bancos mexicanos tras la crisis financiera global. Esto demuestra que la banca mexicana esta mejor capitalizada que la de otros paises -incluyendo el Reino Unido.  
Igualmente, nosotros podemos ofrecer nuestra experiencia y nuestros conocimientos en educacion, infraestructura, ciencia e investigacion, en la transicion hacia una economia baja en emisiones, en innovacion, creatividad y diseño. Precisamente en las areas que Mexico quiere desarrollar para diversificar su economia.  
Podemos ayudar -ya lo estamos haciendo- en la lucha contra el narcotrafico y la delincuencia organizada. El Presidente Calderon y las dos Camaras del Congreso se merecen un enorme credito por los constantes esfuerzos para contrarrestar los carteles de las drogas en Mexico; y me consta que en los ultimos dieciocho meses este arduo trabajo ha comenzado a mostrar resultados reales.
Soy consciente de que no es una lucha facil. Y el Gobierno Britanico esta decidido a ayudarles en cualquier forma posible. Por ejemplo, colaborando con las autoridades de Mexico intercambiando las experiencias y tecnicas que hemos adquirido en la lucha contra la delincuencia organizada. 
Desde luego, nuestro compromiso mutuo va mas alla de nuestra propia prosperidad o de que podemos hacer el uno por el otro. Nuestro acuerdo debe alcanzar todo lo que ocurre a nuestro alrededor en el marco de una sociedad global.
Democracia; desarrollo; libre comercio; combate a la pobreza; proteccion de la biodiversidad; detener el peligroso cambio climatico; contrarrestar la proliferacion de armas nucleares.
Estas son las metas que compartimos. Y comprendemos que, en cada una de ellas, las naciones del mundo son mas fuertes estando juntas y mas debiles separadas. Nuestro exito solo llegara a traves de la accion internacional.  
Asi es la nueva politica internacional. Colectiva, inclusiva, con toma de decisiones internacional, regida por el Estado de Derecho.  
Por eso recibimos con beneplacito el compromiso de Mexico con el multilateralismo y nos emociono el exito de las conversaciones del clima en Cancun, prueba de que es posible acordar acciones efectivas en lo internacional cuando se conducen con destreza.  
Tenemos grandes esperanzas para el G20 bajo la presidencia de Mexico en 2012. Su presidencia sera determinante para alcanzar un marco adecuado para el crecimiento, para una reglamentacion financiera sana, y para cumplir con nuestras promesas de ayudar a los paises mas pobres.  
Y con respecto a Doha, el Gobierno Britanico les tiende una mano en el deseo comun de completar la ronda y abrir a las naciones al mundo.  
El firme apoyo del Reino Unido a las instituciones multilaterales no carece, sin embargo, de critica. Las instituciones internacionales aun no reflejan el actual mapa del poder. Muchos de los principales actores de hoy no tienen la representacion adecuada, motivo por el cual dichas instituciones se estan quedando desactualizadas. 
Y somos firmes en nuestra vision de que la accion colectiva internacional siempre debe responder al Estado de Derecho. La actual intervencion en Libia es un caso ilustrativo. Yo estuve en contra de la Guerra en Irak. Me opuse porque no seguia la legalidad internacional y porque la invasion no contaba con pleno apoyo colectivo. En cambio, la accion en Libia es muy diferente.  Debemos proteger al pueblo libio de la aplastante brutalidad del regimen de Gaddafi. Y las medidas que estamos tomando son legitimas porque cuentan con un apoyo internacional libre de ambiguedades y estan basadas en el Derecho Internacional.  
Confio en que mi visita demuestre que el Reino Unido toma en serio nuestra relacion con Mexico. Un pais que comprende la importancia de la apertura y el pluralismo.  
La que hemos subrayado estos dias es una alianza nueva y revigorizada, pero que se sustenta en nuestros vinculos historicos. Una alianza que sera buena para Mexico, buena para el Reino Unido y, conforme avancemos en nuestras metas comunes -estoy convencido de ello- sera buena para el mundo.  Gracias.
Published 29 March 2011