News story
New Political Director and Special Representative for Afghanistan and Pakistan
Simon Gass has been appointed as Political Director at the Foreign and Commonwealth Office and Prime Minister's Special Representative for Afghanistan and Pakistan.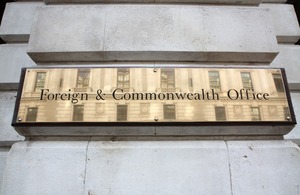 Simon previously served as NATO Senior Civilian Representative for Afghanistan, and Her Majesty's Ambassador to Iran and Greece.
He will succeed Mark Sedwill, who will be moving to the Home Office as Permanent Secretary. Simon took up this appointment on 28 January.
CURRICULUM VITAE
Full name: Simon Gass
Married to: Marianne Gass
Children: 2 sons, 1 daughter
2011 – 2012 Senior Civilian Representative in Afghanistan
2009 – 2011 Her Majesty's Ambassador, Tehran
2004 – 2009 Her Majesty's Ambassador, Athens
2001 – 2004 FCO, Finance Director
1998 – 2001 Pretoria, Deputy High Commissioner
1995 – 1998 FCO, Deputy Head, then Head, EU (Internal) Department
1992 – 1995 Rome, First Secretary
1990 – 1992 FCO, Assistant Private Secretary to Secretary of State
1987 – 1990 FCO, Security Policy Department
1984 – 1987 Athens, First Secretary
1979 – 1984 Lagos, Second Secretary
1977 – 1979 FCO, United Nations Department
Published 1 February 2013