New plans allow schools to employ overseas teachers more easily
Details of Michael Gove's announcement about making it easier for schools to employ teachers from Australia, New Zealand, USA, and Canada.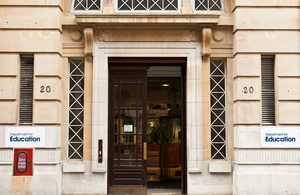 Despite having undertaken training to achieve equivalent teacher training qualifications, qualified teachers from America, Canada, Australia and New Zealand still have to undertake further training and assessment before they are deemed ready to teach in schools in this country.
Michael Gove has today announced that the government intends to make changes so that teachers trained in these countries will be able to teach in our schools automatically. We will consult on how best to achieve this change later in the year. Speaking in Parliament today he said:
One of the aims of my department is to make sure that the most talented people possible are teaching our children and it is already the case that teachers from the European Economic Area can teach in our schools.

Today I want to extend that freedom to teachers from the Commonwealth countries such as Canada and New Zealand and Australia and I hope that other Commonwealth countries like South Africa, Jamaica and Singapore can join in due course.
Research looking at international teaching qualifications shows America, Australia, Canada and New Zealand have teacher training systems that are equivalent to those in the UK. Ministers therefore will be amending the relevant regulations to recognise the qualifications held in these countries. This will allow well-trained teachers from these countries to work in schools as if they held qualified teacher status.
The school or local authority sponsoring the teacher will have to continue to check the suitability of the teacher including their qualifications and any necessary background checks. In addition they will still have to meet existing immigration criteria set out by the UK Border Agency (UKBA).
The proposed changes are subject to a statutory consultation and could come into effect from early 2012. Ministers have also commissioned further research to see if the same changes could be applied to teachers from any other countries in future.
DfE enquiries
Central newsdesk - for journalists 020 7783 8300
General enquiries - for members of the public 0370 000 2288
Published 23 May 2011