New Permanent Under Secretary for the Foreign Office
Simon Fraser has today started as the Permanent Under Secretary of the Foreign and Commonwealth Office, following a civil service wide competition.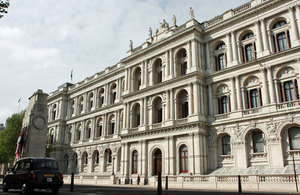 On Mr Fraser's appointment, the Foreign Secretary William Hague said:
"This government is committed to a distinctive British Foreign Policy that extends our global reach and influence and that makes the most of the opportunities of the 21st century. I welcome Simon Fraser's appointment. His energy and leadership will help ensure an ambitious Foreign Office that leads Britain's efforts overseas and across government. Simon Fraser's experience working on trade issues will be valuable in injecting new commercialism into the work of the Foreign Office.
I am grateful to Martin Donnelly for his effective leadership of the Foreign Office as Acting Permanent Under Secretary over these last few months. I am also grateful to Sir Peter Ricketts for driving efforts to deliver a more modern Foreign Office over recent years".
Simon Fraser said:
"To head the Foreign Office is both a privilege and a challenge. I know for myself how many talented British and local staff work for the FCO, dedicated to advancing our foreign policy interests.
In these tough times the Foreign Office has an even more crucial role to play in protecting British security, in strengthening the British economy and helping British business, and in supporting British people around the world.
I look forward to helping the Foreign Secretary achieve the government's ambitious agenda for foreign policy while also ensuring a Foreign Office that continues to modernise and deliver results."
Published 27 August 2010