News story
New Permanent Secretary for the Department for Business, Innovation and Skills
The appointment has been approved by the Prime Minister and the Secretary of State. It follows Simon Fraser's departure from the Department …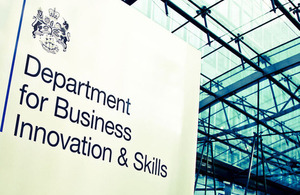 The appointment has been approved by the Prime Minister and the Secretary of State. It follows Simon Fraser's departure from the Department to become Permanent Secretary at the Foreign and Commonwealth Office in September.
The Cabinet Secretary, Sir Gus O'Donnell, said:
"I am delighted that Martin Donnelly has been appointed as the new Permanent Secretary at the Department for Business, Innovation and Skills. Martin will bring to the role a wealth of Whitehall experience, most recently as acting Permanent Secretary at the Foreign and Commonwealth Office, combined with a very strong background in economic and business policy, including in the Treasury and as a senior partner at Ofcom. This experience will be vital in leading the Department through the challenging times ahead in promoting economic growth and innovation.
"I would also like to thank Philip Rutnam, acting Permanent Secretary, for his excellent work in steering the Department through the current Spending Review, since the departure of Simon earlier this year."
Secretary of State, Vince Cable, said:
"Martin's extensive experience across Whitehall will stand him in good stead as he leads the Department in our efforts to secure the recovery and grow the economy. I look forward to him working with me and my Ministers."
Martin Donnelly said:
"I am delighted to be joining BIS at this exciting and important time. I know from my previous experience the skills and professionalism which BIS staff bring to their jobs and I am looking forward to leading the Department to deliver Ministers' objectives across the growth agenda."
Notes to editors:
Martin has a strong record of leadership, delivering results across the public sector on economic and political challenges. From May to August 2010 Martin was Acting Permanent Secretary at the Foreign and Commonwealth Office, where he successfully led the Department through its post election transition. In 2009 Martin led the Smarter Government Review for the Prime Minister with the Cabinet Office Strategy Unit, delivering an ambitious cross government strategy to modernise and streamline central government. From 2004 -2008 he was Director General Europe and Globalisation at the FCO, developing links with emerging markets. Martin's career has also included being the Prime Minister's Special Envoy on oil, a Senior Partner at Ofcom, a Non Executive Director at GCHQ and senior posts in the Cabinet Office, Home Office and HM Treasury. He has also worked in the European Commission on internal market issues and on secondment in the French Finance Ministry.

BIS' online newsroom contains the latest press notices, speeches, as well as video and images for download. It also features an up to date list of BIS press office contacts. See http://www.bis.gov.uk/newsroom for more information.
Notes to Editors
Contact Information
Name BIS Press Office Job Title
Division COI Phone
Fax
Mobile
Email NDS.BIS@coi.gsi.gov.uk
Published 11 October 2010