New Permanent Secretary at Ministry of Justice announced
Ursula Brennan has today been announced as the new Permanent Secretary at the Ministry of Justice.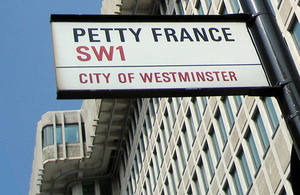 Sir Bob said her previous experience of working as a Director General at the Ministry of Justice will prove invaluable in helping the department deliver its ambitious agenda for reform. She moves after four successful years at the Ministry of Defence - first as Second Permanent Secretary and then as Permanent Secretary since November 2010.
The appointment has been approved by the Prime Minister, in consultation with the Deputy Prime Minister, and by Justice Secretary Kenneth Clarke. She will take up the role on 2 July.
The announcement follows the election of Sir Suma Chakrabarti as President of the European Bank for Reconstruction and Development (EBRD).
Sir Bob welcomed Ursula's appointment:
'I am very pleased to announce that Ursula will be taking up the reins at the Ministry of Justice. Her experience in this area will be invaluable in helping deliver the Government's ambitious agenda for the delivery of justice services. I am very grateful to her for her hard work at the Ministry of Defence. I look forward to working with Ursula in her new role.'
Kenneth Clarke said:
'I am delighted to welcome Ursula back to the Ministry of Justice. She joins at an exciting and challenging time - the Department has a big job to do in transforming the way we deliver justice services. Her experience running large and complex organisations, including MOD, will be invaluable.'
Commenting on her appointment, Ursula said:
'I am very much looking forward to returning to Ministry of Justice as Permanent Secretary. The department needs to find innovative ways to deliver better services with fewer resources, while helping some of the most vulnerable people in society. I look forward to building on the progress made by Suma Chakrabarti and to supporting Kenneth Clarke in delivering his ambitious agenda for reform.'
Kenneth Clarke also paid tribute to Ursula's predecessor, saying:
'Suma has been an outstanding Permanent Secretary and I would like to thank him for his work over the past four-and-a-half years. I have enjoyed working with him since May 2010 and while I am dismayed to be losing him from Ministry of Justice, I am delighted that EBRD have such an excellent President.'
About Ursula Brennan
Ursula Brennan joined the Ministry of Defence as Second Permanent Secretary in October 2008 and became Permanent Secretary in November 2010. Prior to joining MOD, Ursula was Director-General of Corporate Performance in the Ministry of Justice, having led a review to create a structure for the new Ministry of Justice. She was responsible for leading the Department's corporate functions, including finance, HR, IT, strategy and planning, communications and research and analysis.
Before joining the Ministry of Justice Ursula was Chief Executive of the Office for Criminal Justice Reform, a cross-departmental team supporting the three criminal justice departments and criminal justice agencies in working together to provide an improved service to the public.
Ursula spent most of her career in what is now the Department for Work and Pensions (DWP), culminating with leadership of the strategy on welfare to work and benefit fraud. Ursula also led on the development of universal banking; and strategic support to strategies on health and safety at work. She became a Director-General in 1999. Leaving DWP, Ursula joined the Department for Environment, Food and Rural Affairs (DEFRA) as a Director-General, where her responsibilities included board-level leadership of strategy for rural disadvantage, and protection of wildlife and the countryside.
Notes to editors
For more information, please call the Ministry of Justice press office on 0203 334 3536.
Published 12 June 2012