Press release
New online public exhibition launches today for M5 improvement in Worcestershire
Highways England today (July 29) launches an online exhibition for the M5 in Worcestershire.
This news article was withdrawn on
This press release is no longer current.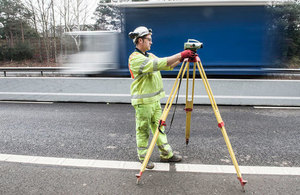 Highways England today launches an online exhibition to act as a one stop shop for information on a scheme which will improve journeys for drivers on the M5 in Worcestershire.
The motorway will be upgraded from junction 4a to 6 in both directions, with extra capacity added.
As part of the 'smart motorway' upgrade, the hard shoulder will be converted to a traffic lane and signing and technology will tell drivers what speed to drive at, if lanes are blocked or closed and about incidents up ahead. Work is set to begin in the autumn.
A virtual exhibition will give people the opportunity to view and comment on the scheme.
People interested in the planned motorway upgrade, will be able to visit the online exhibition until 30 November 2015.
Janice Allen, Highways England project lead, said:
We are very pleased to have launched our interactive web-based digital public exhibition today. We believe this will be a much more convenient and innovative way to inform road users, the local community and our stakeholders about the construction work and its possible implications, for both those living close to the motorway and those using the motorway on a regular basis.
Sir Anthony Winnington, High Sheriff of Worcestershire, who got the opportunity to have a closer look at the online exhibition, said:
It is impressive and useful to know that Highways England is working hard behind the scenes to put together programmes to make the roads safer, and that it is using technology to update a number of these to smart motorways including the M5 junctions 4a to 6.

The scheme's new digital public information exhibition is instructive, and I recommend it to all road users who have access to the internet.
The digital public information exhibition can be found on the project homepage
This improvement is part of last week's appointment of 6 joint-venture companies to design and build 10 smart motorways across England as part of a £1.5 billion investment.
These smart motorway schemes, part of the £15 billion government investment Highways England is delivering between now and 2021, will see 292 extra lane miles added to motorways
General enquiries
Members of the public should contact the Highways England customer contact centre on 0300 123 5000.
Media enquiries
Journalists should contact the Highways England press office on 0844 693 1448 and use the menu to speak to the most appropriate press officer.
Published 30 July 2015