News story
New OFT chief executive announced
Mr Maxwell is currently an Executive Director and Board member of the OFT and will succeed the outgoing CEO, John Fingleton, who announced in…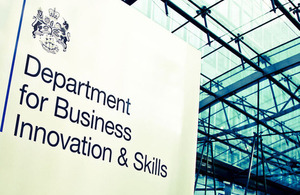 Mr Maxwell is currently an Executive Director and Board member of the OFT and will succeed the outgoing CEO, John Fingleton, who announced in February that he was stepping down after seven years in the role.
Mr Maxwell will take over from Mr Fingleton following a hand over period. A formal start date for his new role will be confirmed shortly.
Vince Cable said:
"I am very pleased to welcome Clive Maxwell as Chief Executive. Clive is already a highly effective member of the OFT leadership team and has been instrumental in forging strong relations with Government and the Competition Commission on the development of the new competition regime.
"Clive's experience and expertise mean he is well qualified to provide strong leadership during the transition to the new Competition and Markets Authority.
"I would also like to thank John Fingleton for his huge contribution to the UK's consumer and competition regime over the past seven years and wish him well for the future."
Chairman of the OFT, Philip Collins said:
"I am delighted that Clive Maxwell, with his considerable experience across Whitehall and the OFT, has accepted this appointment. Clive has played a major role in the OFT's thinking about the regimes for which it is responsible and its future work. He is the right person to lead the organisation through the forthcoming changes."
Clive Maxwell said:
"I am proud to be taking on this role of leading the OFT and its staff, with its strong record of driving competition and protecting consumers. We will remain focused on making markets work well for consumers while also helping ensure a successful transition to the new competition, consumer and credit regimes."
**Notes to editors:
**1. Clive Maxwell joined the Board of the OFT as an Executive Director in September 2010. He was previously Senior Director, Services Sector at the OFT from October 2009, while on secondment from HM Treasury. Prior to his work at the OFT, Clive worked in a wide range of roles for HM Treasury from 1992-2009, including leading work on financial stability and financial regulation, and with a broad variety of business sectors. Clive has represented the UK in international and EU fora, including as Vice-Chairman of the EU's Financial Services Committee from 2008-2009. He also participated in secondments to the European Commission between 1994-1995, dealing with economic and monetary issues, and to local government in 1999-2000.
This appointment has been made in accordance with the requirements of the Civil Service Commissioners. All appointments are made on merit and political activity plays no part in the selection process.

Clive Maxwell will receive an annual salary of £135,300.

The Government announced in March 2012 that it will bring together the Competition Commission and the competition functions of the OFT to form a new independent body, the Competition and Markets Authority (CMA). The CMA will become fully operational in April 2014. The move is designed to streamline the competition regime and make it faster and less burdensome on business. This will be achieved by reforming competition law and strengthening enforcement processes.

BIS's online newsroom contains the latest press notices, speeches, as well as video and images for download. It also features an up to date list of BIS press office contacts. See http://www.bis.gov.uk/newsroom for more information.
Notes to Editors
Contact Information
Name BIS Press Office Job Title
Division Department for Business, Innovation & Skills Phone
Fax
Mobile
Email bispress.releases@bis.gsi.gov.uk
Name Una Flynn Job Title
Division Department for Business, Innovation and Skills Phone 020 7215 5256 Fax
Mobile
Email Una.Flynn@bis.gsi.gov.uk
Published 14 June 2012