Press release
New NI Minister of State looks forward to starting work
Andrew Robathan welcomes new role as Northern Ireland Minister of State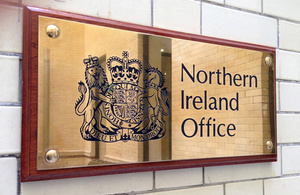 The Rt Hon Andrew Robathan MP today welcomed his appointment as Minister of State for Northern Ireland. He said:
I am delighted to be going to Northern Ireland as Minister of State. Having served there a long time ago I have continued to take a strong interest in the affairs of Northern Ireland and its people ever since I was elected in 1992, since when the situation has changed dramatically.
I am very much looking forward to working with the Secretary of State Theresa Villiers in addressing the challenges ahead.
I also look forward to working with Executive Ministers, the political parties and with the Irish Government in supporting a secure, peaceful and prosperous Northern Ireland. And I will work with my government colleagues across Whitehall to ensure that policy development for the United Kingdom as a whole takes full account of specific circumstances in Northern Ireland.
Andrew Robathan was previously Minister of State for the Armed Forces (2012-2013) and Minister for Defence Personnel, Welfare and Veterans (2010-2012). He has been an MP for South Leicestershire since 1992. Prior to entering Parliament, he served around in the world in Coldstream Guards from 1974 to 1989, including in Northern Ireland.
The new Minister is currently recovering from an operation and will be taking up his post full-time next month. In the intervening period he is working from home, getting to grips with his new brief.
In addition to supporting the Secretary of State across the range of NIO responsibilities, the Minister will take on responsibilities for:
day-to-day national security matters, in particular the home protection scheme and firearms appeal cases
engagement with hard to reach communities
liaison with a number of key devolved ministers, including welfare, education and health
liaison with other Whitehall Departments on issues of particular interest to Northern Ireland
elections and electoral law
human rights and the Northern Ireland Human Rights Commission
NIO responsibilities for equality issues
liaison with the Irish government on commemorations
Published 11 October 2013