World news story
New naval tanker naming ceremony
Naval tanker RFA tidespring naming ceremony in okpo on 7 october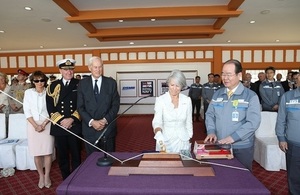 In a ceremony at Daewoo Shipbuilding and Marine Engineering (DSME) in Okpo, South Korea on 7 October 2015, Lady Boyce named the first of four Naval Tankers being built by DSME for the UK Ministry of Defence. The Admiral of the Fleet (Lord Boyce) and the First Sea Lord attended the ceremony, accompanied by key defence representatives from the Republic of Korea, headed by the Defence Acquisition Program Administration Minister, Chang, Myoung-jin.
Speaking ahead of the naming ceremony, Admiral Sir George Zambellas, First Sea Lord and Chief of the Naval Staff, said:
With the naming of RFA Tidespring, the Royal Navy looks forward to another new arrival into our future fleet.

RFA Tidespring is another example of the mobility, persistence and flexibility of maritime forces. She and her three sister vessels are joining a renewed and emboldened Royal Navy, more modern, more capable, than ever before.
Notes to Editors:
The remaining three ships will be delivered to the UK Ministry of Defence over the next 18 months. The project is the result of a successful collaboration between DSME and UK company BMT, whose skills have complimented each other to deliver this complex project.
The DSME/BMT collaboration has also resulted in the joint export of a similar vessel to Norway, and has opened up further Naval export opportunities around the world.
Published 8 October 2015