New national Para memorial unveiled
A lasting memorial to the Parachute Regiment and Airborne Forces has been unveiled at the National Memorial Arboretum.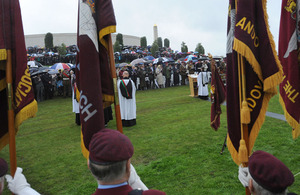 The five-metre-tall bronze memorial depicting Bellerophon mounted on Pegasus, with his spear in hand, together with a modern-day paratrooper pulling his Bergan up the grass mount to the statue, took sculptors Charlie Langton and Mark Jackson two years to complete
Mr Jackson, a former Para himself, described the commission as the most significant of his career:
To be able to combine my former career serving with the Parachute Regiment and my current one as a sculptor to create a memorial for the regiment is unbeatable," he said before the dedication ceremony.
There has been a team of about 50 people who have had a hands-on role in building this, from those working in the metal works to the structural engineers making sure that Pegasus will stand on his hind legs, and this ceremony is the culmination of that.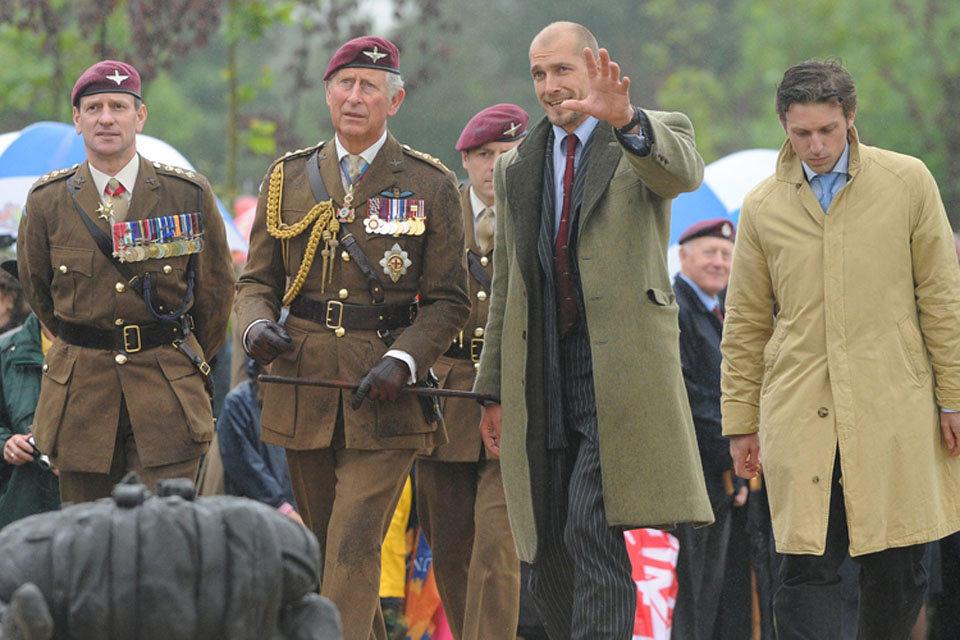 Attending the dedication ceremony was His Royal Highness The Prince of Wales, as the Colonel-in-Chief of the Parachute Regiment, together with both serving paratroopers and veterans.
In the crowd was 87-year-old Bill Ness from Newcastle-upon-Tyne who was just 19 when he landed in Normandy. He was wounded twice during the Second World War, the first time in Normandy when he was hit with shrapnel in his right foot, and then later in the Rhine area when he was shot in the left leg. The bullet still remains in his leg.
For Mr Ness, the memorial couldn't have come soon enough, as he remembers his fallen comrades and best friend Walter Staines:
This is for the lads who didn't come back, as sure enough they could have been here thinking of me," he said. "It's about time we had something like this for them and all the others who have fallen in the regiment's history.
Major General John Lorimer, also at the ceremony, echoed Mr Ness's sentiments:
This memorial is hugely important to us as a regiment to have a tribute to all those who have fallen and served. It is somewhere where people can come to pay their respects.
Commemorations have long been held in Normandy, Arnhem, Bruneval and the Rhine, but the journey is becoming increasing difficult for surviving veterans to make, while families of the fallen from more recent conflicts in the Falklands, Iraq and Afghanistan had also called for a memorial in the UK.
Published 16 July 2012