News story
New National Council to raise standards of careers advice
The council will be a driving force for excellence in careers guidance and will provide independent, expert advice to the Government on the …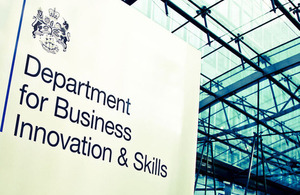 The council will be a driving force for excellence in careers guidance and will provide independent, expert advice to the Government on the future development of the National Careers Service which was launched at the beginning of April.
Dr Deirdre Hughes has a wealth of experience in the careers guidance sector, she is a Commissioner and member of the Executive Board of Directors at the UK Commission for Employment & Skills (UKCES) and was recently awarded an OBE in the 2012 New Year Honours List for her services to careers guidance. She will be supported on the council by ten members who each have expertise in the sector.
Mr Hayes said:
"The National Council for Careers will help to create a new beginning in careers guidance by improving professionalism, forging links with business and ensuring advice reflects the competition and complexity of the labour market.
"I am delighted that Dr Deirdre Hughes and a team of experienced and dedicated professionals have agreed to work on this extremely important council which will be at the forefront of transforming careers guidance. The Council includes representatives from across the public, private and third sector, as well as from the careers profession, and with a range of backgrounds including HR, finance and communications."
Dr Deirdre Hughes OBE, Chair of the National Council for Careers said:
"For young people and adults, having access to high quality and improved careers support services has become more important than ever.
"On behalf of the Minister I am delighted to bring together leading businesses and those from the education sector to jointly review the progress and impact of the National Careers Service, and to develop a future perspective.
"We've been given an exciting opportunity to look at the design and development of career provision in England, to consult widely with differing bodies, and to create a vision for high impact careers services. We look forward to this new challenge."
The Government's vision for a better quality of information, advice and guidance on learning and work is set out in the document "The Right Advice at the Right Time", which was published on the 5th April alongside the launch of the National Careers Service and can be accessed at http://www.bis.gov.uk/assets/biscore/further-education-skills/docs/n/12-677-national-careers-service-right-advice-right-time.pdf
**Notes to editors:
**
1. The ten members on the Council are Rajay Naik, David McNerney, Steve Higginbotham, Jennifer Rudge OBE, Linda Taylor OBE, Heather Jackson, Chris Heaume, Kieran Gordon, Tony Watts and Ruth Spellman. Simon Surtees, Nick Chambers and Brian Lightman will be Associate Members.
The aim of the National Council for Careers is to provide a forum in which experts from business and the careers sector can discuss the operation and development of the National Careers Service in England, and provide advice to Government.

The National Careers Service will provide information and advice for approximately 370,000 young people through the use of the helpline and website, offer face to face advice to 700,000 adults each year in a range of locations in local communities and provide detailed sector by sector labour market information so people can discover which industries are growing in their area.

BIS's online newsroom contains the latest press notices, speeches, as well as video and images for download. It also features an up to date list of BIS press office contacts. See http://www.bis.gov.uk/newsroom for more information.
Notes to Editors
Contact Information
Name BIS Press Office Job Title
Division Department for Business, Innovation & Skills Phone
Fax
Mobile
Email bispress.releases@bis.gsi.gov.uk
Name Ashley Rogers. Job Title
Division Department for Business, Innovation and Skills Phone 020 7215 5971 Fax
Mobile
Published 10 May 2012