News story
New national board will uncover scams and rogue traders
Consumers need to know who to go to when they have a problem which is why Citizens Advice and Citizens Advice Scotland will take on responsibilities…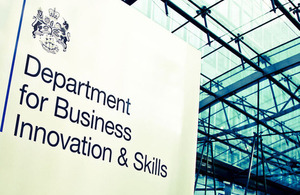 Consumers need to know who to go to when they have a problem which is why Citizens Advice and Citizens Advice Scotland will take on responsibilities and resources from the Office for Fair Trading (OFT) and Consumer Focus. The process has already started, and a new advice line succeeding Consumer Direct was launched by the Citizens Advice service on 2 April.
The Citizens Advice service will also take on responsibility from Consumer Focus for representing consumers' interests in unregulated sectors. This will leave a new, technical Regulated Industries Unit working with the energy and postal services sectors and their regulators, replacing Consumer Focus.
Trading Standards will continue to play a critical role in protecting consumers and businesses, which is why Government is providing increased funding of £10.5m for England, Wales and Scotland to build on local expertise and strengthen mechanisms for cross-boundary working - making it easier to catch unscrupulous traders.
As part of the reforms, a new National Trading Standards Board (NTSB) will bring together representatives of Trading Standards from England and Wales to prioritise, fund and coordinate national and regional enforcement cases.
The Convention of Scottish Local Authorities (COSLA) has also set up a task group to look at how best to deliver the landscape changes in Scotland in both the short- and long- term.
The NTSB will be responsible for gathering important intelligence from around the country to combat rogue traders, and tackle priorities such as internet scams, illegal money lending and other enforcement issues that go beyond local authority boundaries.
Consumer Affairs Minister, Norman Lamb said:
"For too long people have been faced with an array of different bodies for advice and support, but its not always clear who to turn to first. The Citizens Advice service will become the publicly-funded voice of consumers, championing their needs and empowering them to make the right choices for themselves.
"There will also be clearer responsibilities and better coordination between enforcers and consumer bodies. A new National Trading Standards Board is exactly what we need to combat priority areas such as loan sharks and internet scams.
"All of the reforms will ensure that we have the right system of help, advice and protection for consumers."
David Collinson, interim Chair of the NTSB said:
"This is a real opportunity for Trading Standards to improve the coordination and delivery of national consumer protection, complementing the great work done by local authority trading standards teams. The Government's decision is transformational, enabling a truly joined up approach to tackling rogues and scammers that operate across borders.
"In this first year we will build upon the excellent collaboration that exists with our existing specialists teams such as illegal money lending and regional scam/fraud teams, as well as introduce new national capability on e-crime."
Gillian Guy, Chief Executive of Citizens Advice said:
"This is good news for consumers. With consumer advice, advocacy and education all under one Citizens Advice service roof, consumers will get a service they know and trust. One that helps them resolve their problem, learn how to avoid similar issues, and get involved in making sure the same thing doesn't happen to other people.
"Citizens Advice has a strong history of advising consumers and championing their problems at a national and local level. We're pleased that this decision will now allow us to do more to help consumers in this way. We will work closely with Consumer Focus and the Government to ensure a smooth transition for the benefit of consumers."
The competition authorities will also continue to play a key role in empowering and protecting UK consumers, following changes announced to the competition regime in March.
The new Competition and Markets Authority (CMA) will be responsible for promoting effective competition in markets across the UK economy for the benefit of consumers and allow more effective co-ordination with Trading Standards.
The reforms will also improve collaboration and intelligence sharing between key organisations so that they work together for the benefit of consumers. Members from the NTSB, CMA, the Regulated Industries Unit and the Citizens Advice service will share intelligence and work together on enforcement, information and education.
The partnership will report regularly to the Minister for Consumer Affairs on how the system as a whole is delivering benefits for consumers.
Above all the proposals will help streamline the consumer landscape and ensure a powerful consumer voice to business, government and regulators.
Notes to editors:
You can read the full response at http://www.bis.gov.uk/assets/biscore/consumer-issues/docs/e/12-510-empowering-protecting-consumers-government-response.pdf

Consumers who need help should contact the Citizens Advice consumer service at [www.adviceguide.org.uk](http://www.adviceguide.org.uk) or dial 08454 04 05 06.

David Collinson, interim Chair of the NTSB, is Assistant Director - Public Protection at Norfolk County Council

The Competition and Markets Authority, will have the power to tackle competition problems, and practices and market conditions that make it difficult for consumers to exercise choice in an otherwise competitive market. For these purposes the CMA will have use of both its competition toolkit and will have powers to enforce consumer protection legislation. The CMA will also have primary enforcement responsibility in relation to the application of unfair contract terms legislation.

From April 2013, the NTSB will receive additional funding from the current OFT enforcement budget

In Scotland and Wales:
The Convention of Scottish Local Authorities (COSLA) is developing a parallel cross-authority mechanism in Scotland;

Welsh local authorities will be fully represented on the NTSB.

Northern Ireland already has a separate system for consumer enforcement and this will not be affected.
Further quotes:
Dominic Notarangelo,** **Chair of Citizens Advice Scotland said:
"Citizens Advice Scotland welcomes the UK Government's recognition of the key role the Scottish Citizens Advice service can play in the provision of information, advice and education in relation to consumer matters.
"The impact of the citizens advice network in Scotland is already positive, significant and nationwide. With consumer functions, it will be even more so. We are embedded into our local communities; we are trusted; we are reliable and relevant. Delivering a one stop consumer service will help citizens across Scotland."
Mike O'Connor, Chief Executive of Consumer Focus said:
"I welcome the conclusion of the review of the consumer landscape. We look forward to working in partnership with Government and the Citizens Advice service in building a Regulated Industries Unit to represent consumers' interests in essential markets including energy and post."
BIS's online newsroom contains the latest press notices, speeches, as well as video and images for download. It also features an up to date list of BIS press office contacts. See [http://www.bis.gov.uk/newsroom](http://www.bis.gov.uk/newsroom) for more information.
Notes to Editors
Contact Information
Name NDS Enquiries Job Title
Division
Phone For enquiries please contact the issuing dept Fax
Mobile
Email ndsenquiries@co.gsi.gov.uk
Name Ed Smith Job Title
Division Department for Business, Innovation and Skills Phone 020 7215 5945 Fax
Mobile
Email ed.smith@bis.gsi.gov.uk
Published 11 April 2012