Press release
New members for Public Health Advisory Board
Four new non-executive members will join Public Health England's (PHE) Advisory Board Health Secretary Jeremy Hunt announced today.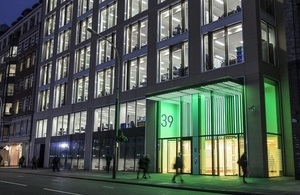 Four new non-executive members will join Public Health England's (PHE) Advisory Board Health Secretary Jeremy Hunt announced today.
The four new members are:
George Griffin, a consultant physician who is also Professor of Infectious Diseases and Medicine at St George's, University of London

Martin Hindle, Chairman of The University Hospitals of Leicester NHS Trust and a Non Executive Director at the Medicines and Healthcare products Regulatory Agency

Derek Myers, joint Chief Executive at the Royal Borough of Kensington and Chelsea and London Borough of Hammersmith and Fulham and

Professor Richard Parish, who is Chief Executive of the Royal Society for Public Health and Chairman of the Pharmacy and Public Health Forum
PHE is the authoritative national voice and expert service provider for the nation's health in England. Its overall mission is to protect the nation's health and wellbeing, and to tackle health inequalities so that benefits are delivered to the poorest in our society first.
Derek Myers has been confirmed as the chairman of PHE's audit and risk committee. The group will take up their new posts immediately.
Health Secretary, Jeremy Hunt said:
I am delighted to announce these new appointments to the Public Health Advisory Board.
Their combined expertise and experience in public health, local government, the NHS and the private sector will be invaluable to PHE.
They all have extensive leadership experience in high profile, complex organisations and, combined with their individual areas of expertise, this will enable them to contribute to the building of an efficient, effective and responsive public health system. This in turn will enhance PHE's ability to help protect and improve the nation's health.
Professor David Heymann, Chairman of the Advisory Board, said:
I very much welcome these appointments to the PHE Advisory Board.
They bring to this role great breadth and depth of experience, and they will, collectively and individually, make important contributions to PHE's strategic direction, support to local government, and scientific independence
Duncan Selbie, Chief Executive of Public Health England said:
I am greatly looking forward to working with George, Martin, Derek and Richard in pursuit of our mission and ambition.
Notes to editors
For media enquiries please ring the Department of Health press office on (0207) 210 5197
Richard Parish and Martin Hindle's appointments are for three years and Derek Myers and George Griffin's appointments are for four years They will receive £7,883 per annum for a time commitment of 2-3 days per month.
Derek Myers, audit chair, will receive remuneration of £13,137 per annum. PHE's Advisory Board will meet quarterly and its meetings will be held in public. The first meeting is being arranged for June.
More information on PHE, including its priorities, can be found on the Public Health England website.
Published 3 May 2013