Press release
New measures to protect UK workers
Two consultations have been published on reforming recruitment sector legislation and tackling exploitation in the labour market.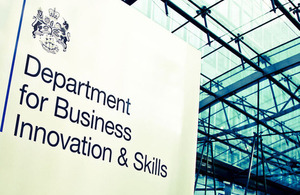 Recruitment firms who recruit solely from overseas without advertising in Great Britain and in English will be prevented from doing so, under plans announced by the Business Secretary today (13 October 2015).
The government will also consult on introducing a new criminal offence to tackle unscrupulous employers who subject vulnerable migrant workers to illegal working conditions and pay.
The proposals are put forward in 2 consultations published today on reforming recruitment sector legislation and tackling exploitation in the labour market.
Business Secretary Sajid Javid said:
To ignore the pool of talent in the UK wastes the potential of British people who want the dignity of a job and the security of a pay cheque.

This one nation government is committed to making sure our economy delivers for people who want to work hard and get on in life.

We will also protect migrant workers who are duped into working in the UK and then exploited by rogue businesses. Their unscrupulous practices undercut firms who play by the rules.
Minister for Immigration James Brokenshire said:
We will make Britain a fairer, and safer place for employees by introducing new and improved protections for workers.

A new Director of Labour Market Enforcement and reforms to the Gangmasters Licensing Authority sends a clear message that we are committed to protecting employees and bringing rogue operators to justice.

I want to send a clear message to workers, we will pass new laws to protect you, and we will enforce them.
The recruitment sector plays an important role in ensuring the labour market works effectively by helping people to find permanent and temporary work. These proposed changes strike a balance between removing burdens on employment agencies and retaining important protections for people who are looking for work. This includes stopping recruitment firms recruiting solely from other European Economic Area (EEA) countries.
The labour market consultation includes 4 proposals to build on the effectiveness of the current regime:
a new offence of aggravated breach of labour market legislation for the worst offenders
police-style powers and a wider remit for the Gangmasters Licensing Authority (GLA), to enable it to tackle serious exploitation
a new Director of Labour Market Enforcement, to set priorities across enforcement bodies dealing with everything from criminal activity to payroll errors
increased intelligence and data sharing between the existing enforcement bodies and also other bodies such as the National Crime Agency, police forces and local authorities to increase the targeting of enforcement
The new offence will target those employers who deliberately, persistently and brazenly commit breaches of labour law, and fail to take remedial action. Being found guilty could lead to a custodial sentence.
A reformed GLA will investigate exploitation of all workers, whether employed through an agency, gangmaster or direct employer. Trained staff will be able to use police-style powers so they can seek and use search warrants to secure crucial evidence.
Notes to editors
Regulation 27A of the Conduct Regulations, which came into force in January this year (2015), already requires employment agencies and employment businesses in Great Britain, if they are advertising a vacancy for a job based here, to advertise it in Great Britain and in English either before or at the same time as advertising it in another European Economic Area (EEA) country. We now want to take this further by reducing the scope for employment agencies and employment businesses to fill vacancies here with people from overseas without any advertising. We are proposing that those employment agencies and employment businesses that recruit overseas, for work in Great Britain, would be required to advertise in Great Britain and in English, either at the same time or in the 28 days prior to any overseas recruitment activity.
Employers who want to recruit from outside of the EEA need to comply with the Resident Labour Market Test. This requires employers to advertise a position in 2 UK publications for 28 days and provide evidence to UK Visas and Immigration that this requirement was met and yielded no suitable candidate.
Details of the consultation on reforming the regulatory framework for the recruitment sector and proposal to prohibit EEA-only recruitment.
The Director of Labour Market Enforcement will be appointed by and report to both the BIS Secretary of State and the Home Secretary. We intend that the Director will hold a statutory position, and we have included legislation to create the position in the Immigration Bill, which was introduced to Parliament on 17 September 2015. The Director will set priorities for the HMRC National Minimum Wage team, Employment Agency Standards Inspectorate and the Gangmasters Licensing Authority.
The work of the GLA is currently limited to licensing of gangmasters, and enforcing those licenses, in specified sectors of the economy (farming, food processing and shellfish gathering).
Published 13 October 2015