Press release
New measures to increase transparency on council home values
Members of the public will be able to see the value of the assets councils hold.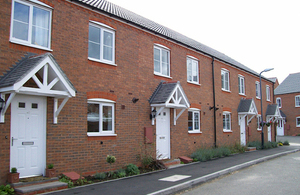 Members of the public will be able to see the value of the assets councils hold for the first time today (11 July 2014), under plans announced by Housing Minister Kris Hopkins.
The proposals put forward in consultation, would require councils to publish the most recent and subsequent valuations of their social housing stock every year. The consultation also calls for evidence on what local authorities are already doing to use their public assets to deliver more homes.
Residents will then have this information to question their council over effective management of the housing they own - and whether higher value, vacant properties could be used to fund the building of new homes for local people.
Housing Minister Kris Hopkins said:
I want people to have confidence that their councils are managing the valuable resource of social housing properly, and ensuring the needs of the most vulnerable in their communities are being met.

Councils are already required to make public how they allocate their council homes, and since 2010 have received £19 million to combat social tenancy fraud. Under these plans people would be able to see the value and numbers of properties councils hold and challenge councils to use this stock in the best possible way for the local community.
Further information
The consultation Transparency in social housing assets value is published today.
Office address and general enquiries
2 Marsham Street
London
SW1P 4DF
Contact form http://forms.communiti...
General enquiries: please use this number if you are a member of the public 030 3444 0000
Published 11 July 2014