Press release
New measures to help designers protect their rights
Government seeks views on providing public notice of registered design rights by marking relevant products with a website address.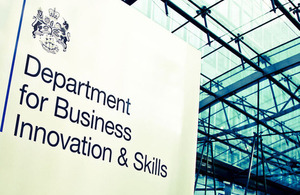 UK designers will no longer have to include a design number on products to be confident they can recover damages for infringement under new proposals announced today (16 July 2015).
Providing notice of registered intellectual property (IP) rights by marking a product is optional but allows the rights holder to highlight that the design is registered. This means that infringers cannot claim that they could not have known that the design was protected.
Government is seeking views on proposals to help designers enforce these rights. The proposed measures will enable designers to mark their products with a web link, instead of having to stamp the product or attach a label with the registered design numbers. The web link would notify third parties of the relevant registered design rights and keep information up-to-date as IP rights change.
Making a false claim that a design is registered can result in a fine, so this proposed change would simplify the system for design owners and users.
The proposal was announced by Intellectual Property Minister, Baroness-Neville Rolfe, on a trip to the headquarters of British technology company, Dyson.
During the visit, Intellectual Property Minister Baroness Neville-Rolfe, said:
Dyson is at the forefront of technology and innovation in the UK so it is apt that the announcement has been made here. Strong IP systems allow innovation, creativity and entrepreneurship to thrive.

We are confident that virtual marking for registered designs will be very warmly welcomed by UK companies for whom design is key to their success. Dyson is rightly famous for its innovative designs. The company recognises that it would be a simpler way of providing notice for those rights owners who wish to make use of this option.
Sir James Dyson, Founder and Chief Engineer, Dyson, said:
Virtual marking will propel intellectual property into the digital age. Next, we need to uphold a culture where inventors resolutely protect their ideas and where the ideas of others are firmly respected.
Notes to editors:
The call for evidence is available at Webmarking for registered design rights: call for evidence
The UK Intellectual Property Office is responsible for Intellectual Property (IP) rights in the United Kingdom, including patents, designs, trademarks and copyright. The UK sees IP enforcement, whether civil or criminal, as crucial for innovation and economic growth, and supports the coordination and cooperation across the IP community to tackle counterfeiting and piracy.
Dyson Ltd is a British technology company that designs and manufactures vacuum cleaners, hand dryers, bladeless fans, and heaters. It sells machines in more than 70 countries and employs more than 5,000 people worldwide.
The Intellectual Property Act 2014 introduced a provision to allow for web marking of patented products. This enables patent owners to mark their product with a web link, instead of having to stamp the product or attach a label with the patent numbers. This is an optional system that means that an infringer cannot claim that he or she did not know, or could not have known, that the product was protected by patent(s). The government is now seeking views on extending this system to registered designs.
Published 17 July 2015