New market opens up for British beef exporters
British beef and lamb could soon be back on Russian menus following a landmark agreement potentially worth £80m to the British industry over…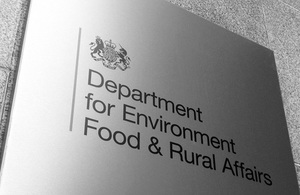 British beef and lamb could soon be back on Russian menus following a landmark agreement potentially worth £80m to the British industry over the next three years.
Russia banned the import of British beef and lamb following concerns about the cattle disease BSE. The controls are now so tight that the disease has virtually disappeared in the UK, and this is recognised internationally.
Environment Secretary Owen Paterson said: "British food is recognised around the world for using quality ingredients, for rigorous production standards, and for reliable traceability. This deal is further evidence of international confidence in what British producers have to offer.
"Our food exports are booming, recently topping £18bn a year, and this Government is doing all it can to open up markets abroad."
The agreement with Russia is another export success following the £50m agreement to export British pork to China which Defra helped to secure in May this year.
The UK Government expects official written confirmation, and full details of the deal, from Russian officials within the next few days. The British negotiation delegation was headed by the Defra's chief veterinary officer Nigel Gibbens.
Food and farming is worth £89 billion to the UK economy and employs 3.5 million people. Last year UK food and drink exports increased by 9 per cent to £18.2bn, marking the seventh consecutive year of record growth.
As part of the Government's ongoing commitment to help UK entrepreneurs, Owen Paterson has recently returned from leading the largest ever delegation of British food and drink businesses to China. During the trip he visited the country's largest food trade fair, Food and Hotel China, where he promoted UK food and drink firms to more than 30,000 potential importers. He also held meetings about resolving issues including counterfeiting of Scotch Whisky imports and speeding up customs and health certification processes.
Published 23 November 2012