Press release
New M1 southbound to A14 link opens at Catthorpe Interchange in the Midlands
A major new link road in Leicestershire is set to open this week as Highways England continues to improve Catthorpe Interchange in the Midlands.
This news article was withdrawn on
This document is no longer current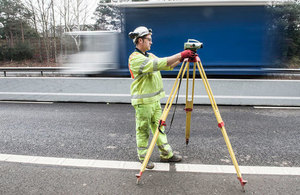 From 6am on Friday (26 August) the new carriageway linking the M1 southbound to the A14 eastbound will be open as part of the M1 junction 19 Catthorpe improvement scheme.
The single lane link road means drivers travelling south on the M1 to head east on the A14 will no longer have to negotiate the 'dumbbell' roundabouts – removing the last trace of the historic bottleneck of congestion.
Ivan Marriott, Highways England project manager, said:
We've been working hard to put this permanent link in place prior to the bank holiday so that we can provide drivers with the benefits of a direct M1 to A14 eastbound link as soon as possible.

As this is a significant change in road layout, I'd urge drivers to observe signs, ignore their satnavs, get in lane when instructed and drive carefully as they get used to the new arrangement.
Drivers accustomed to joining the local road network at the Catthorpe Interchange from the M1 southbound are reminded that access at the junction is no longer possible. Local traffic will need to use alternative routes from junction 20 on the M1 southbound or junction 1 on the M6 or A14.
Once open, speed restrictions of 50mph on the approaches to junction 19 will remain for safety reasons while construction of the final improvement works are completed.
An overnight closure of the A14 eastbound at Catthorpe Interchange from both the M1 and M6 southbound will take place from 9pm on Thursday 25 August to enable traffic to be switched onto the permanent link road at 6am on Friday 26 August. Diversions will be clearly signposted.
Drivers can keep up-to-date with closures and follow scheme progress on the scheme's Facebook page.
General enquiries
Members of the public should contact the Highways England customer contact centre on 0300 123 5000.
Media enquiries
Journalists should contact the Highways England press office on 0844 693 1448 and use the menu to speak to the most appropriate press officer.
Published 25 August 2016