New logo: Flying the flag for UK aid
Aid from Britain will be badged with a Union Flag overseas, as a clear symbol that it comes from the United Kingdom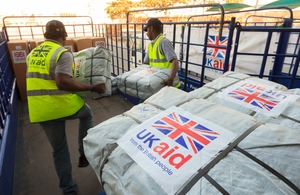 Aid from Britain will now be badged with a Union Flag when it is sent overseas, as a clear symbol that it comes from the United Kingdom.
From today, the new UK aid logo will be applied to items like emergency grain packets, schools and water pumps.
The new look will help to drive home the message that Britain deserves credit for the results that UK aid delivers, for example in vaccinating millions of children and getting millions more into school over the past two years.
These latest results are detailed for the first time in the Department for International Development's Annual Report, which is published later today.
International Development Secretary Andrew Mitchell said:
For too long, Britain has not received the credit it deserves for the amazing results we achieve in tackling global poverty. Some in the development community have been reluctant to 'badge' our aid with the Union Flag.

I disagree: I believe it is important that aid funded by the British people should be easily and clearly identified as coming from the UK. It is right that people in villages, towns and cities around the world can see by whom aid is provided.

British aid is achieving results of which everyone in the United Kingdom can be proud. And I am determined that, from now on, Britain will not shy away from celebrating and taking credit for them.
DFID's partners can request a copy of the new logo for official use. Go to the Corporate Communications section of this website to find out more.
Published 25 June 2012