Press release
New Libyan Government highlights early priorities with international support
United Nations Support Mission in Libya and UK co-chair meeting on international support for new Libyan Government of National Accord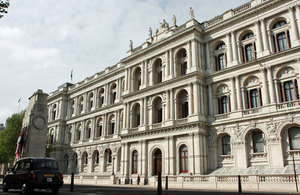 The United Nations Support Mission in Libya (UNSMIL) and the UK co-chaired a meeting in Tunis on Tuesday 12 April to discuss how the international community can support the priorities set out by the new Libyan Government of National Accord (GNA) to bring peace, security, stability and prosperity to the Libyan people.
The meeting was attended by the Deputy Prime Minister of the Libyan Presidency Council, HE Mousa Al-Koni, H.E. Dr. Taher Al-Jehaimi, Minister of Planning of the GNA, and over 40 countries and international organisations. It was opened by Tunisian Minister of Foreign Affairs H.E. Khemaies Jhinaoui.
Addressing the audience HE Mousa Al-Koni stated:
The timing of this meeting is very important, especially after the Presidency Council moved to Tripoli. Achieving stability in Libya is an urgent need for the country and it is in the interest of all Libyans and the neighboring countries.
Attending on behalf of the UK, the Director General of Middle East and Africa, UK Foreign and Commonwealth Office, Dr Christian Turner said:
It is vital that the international community supports the GNA in delivering early tangible benefits to the Libyan people, particularly on security and essential services, in a way which is inclusive for all Libyans.
The co-chairs noted the vital importance of building on the positive developments in Libya of the past two weeks in bringing peace and security to the Libyan people. They agreed on urgent steps to enable experts, led by the Libyan government and in consultation with UNSMIL and donors, to prepare more detailed proposals for future endorsement by Ministers.
Further information
United Nations Support Mission in Libya Press Release
Follow the Foreign Office on Twitter @foreignoffice
Follow the Foreign Office on Facebook and Google+
Media enquiries
Email newsdesk@fco.gov.uk
News Desk 020 7008 3100
Published 13 April 2016